Miley Cyrus Has Bum Bum Bongos Played On Her By Dave Berry - Video
13 November 2013, 12:16 | Updated: 13 November 2013, 12:44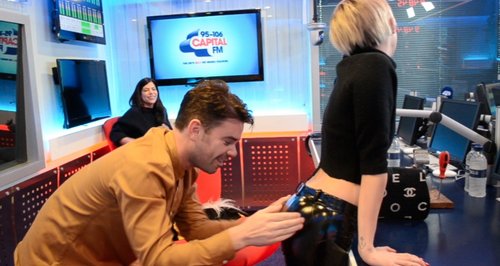 The 'Wrecking Ball' star had a unique musical experience when she stopped by Capital FM this week.
Miley Cyrus stopped by Capital FM this week for an exclusive live webchat, after which she became a musical instrument herself when presenter Dave Berry played the Bum Bum Bongos on the 'Wrecking Ball' star.
US star Miley was back in town this week to promote her recent album 'Bangerz', and took part in the latest craze when she let Dave create beautiful music by playing the bongos on her behind, all while wearing tight PVC trousers.
During her exclusive webchat with Capital FM Miley notably confirmed that she will "definitely" bring her 'Bangerz' world tour over to the UK in 2014, after it kicks off across North America in February next year.
Miley also chatted all about her recent MTV EMAs 2013 controversy, which song could be her next single and what's coming up for her for the rest of 2013.
Check out the full highlights from Miley Cyrus' capitalfm.com webchat here.