Miley Cyrus Says 'Bangerz' Tour Critics Starting To Bring Her Down
27 February 2014, 09:54 | Updated: 27 February 2014, 09:55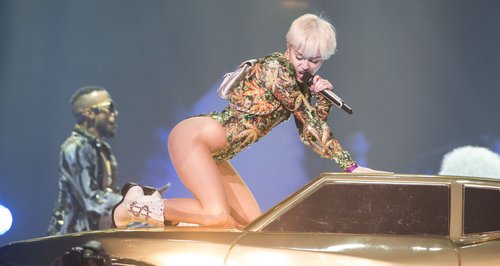 The 'We Can't Stop' singer comments on "bad energy" but is pleased her fans are loving the outing so much.
Miley Cyrus has hit out at recent criticism of her raunchy 'Bangerz' world tour and said that "bad energy" is starting to bring her down.
The US star has been left battered and bruised after giving her all every night on stage but some continue to focus on the more R-rated behaviour she displays as apose to the great show she's putting on for her fans.
"I don't think people realize how much energy I put into my shows & how much their bad energy brings me down," she wrote on Twitter during a heartfelt moment with her followers.
She did comment that as long as her fans were happy then she was pleased.
Her fans have been taking to Twitter to give their support and praise the efforts of the 'Wrecking Ball' star.
The tour kicked off on 14th Feb and will head across to the UK this May.
The bangerz tour was amazing loved it #miley #twerk

— daisy flores (@daisyflores209) February 26, 2014
@MileyCyrus Please Miley don't listen to them bc your shows are amazing and know that's it's the best tour EVER. Ily take care xx

— Miley Cyrus ᴴᴰ (@MCyrusHD) February 25, 2014
SO proud if Miley, Bangerz tour has been amazing

— Megan (@KissWhoWeWant) February 25, 2014
You may also like…