Lady Gaga Teases The Muppets Thanksgiving Special With New Performance Clips - Video
28 November 2013, 09:32 | Updated: 28 November 2013, 09:34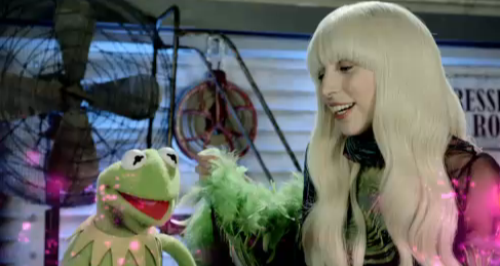 The 'Do What U Want' star is seen performing a piano duet with Kermit in the latest teaser.
Lady Gaga has teased tonight's Thanksgiving special with The Muppets by sharing footage of herself performing alongside the famous Jim Henson creations.
Watch Lady Gaga performing 'Applause' with The Muppets in her Thanksgiving special below:
The 'Venus' star's second Thanksgiving special airs this evening (28th November) where Gaga will be joined by Elton John, RuPaul and Joseph Gordon-Levitt, as well as The Muppets themselves.
Lady Gaga has since posted up several Instagram video clips of her at the event, first singing 'Applause' alongside all the Muppets and another of her singing a piano duet with Kermit The Frog.
Watch Gaga and Kermit performing a duet together below:
This week Lady Gaga was confirmed as the new face of fashion house Versace, and she plays the Capital FM Jingle Bell Ball 2013 next Sunday 8th December.
Lady Gaga And The Muppets Holiday Spectacular airs on ABC tonight.