Lady Gaga Left "Crying" After Emotional Visit To The Louvre In Paris To See Her Portrait
21 January 2014, 11:18 | Updated: 21 January 2014, 11:36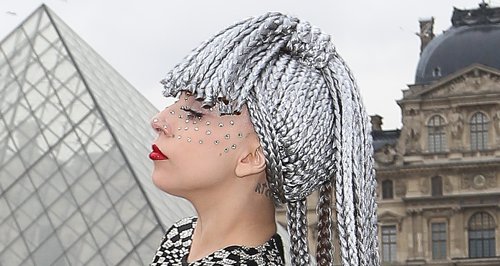 The US star also rocked an unusual look of silver metallic braids for her cultural trip to the gallery.
Lady Gaga wore a striking outfit of metallic braids and a chequered monochrome catsuit for her visit to the Louvre in Paris this week, and enjoyed a "special moment" to visit a portrait of herself done by famous artist Bob Wilson.
The 'Applause' singer says the visit was a day she will "never forget" after getting to see the portrait in person for the first time, and promised to reveal a video of her adventures in Paris over the past week very soon.
Me & @BrandonVMaxwell crying w BOB WILSON's portraits. That's me on the wall!http://t.co/VKEO4MNYoU pic.twitter.com/rkwiwOfkzO

— Goddess of Love (@ladygaga) January 21, 2014
"I went to the Louvre today and saw the portraits Bob Wilson made of me," Lady Gaga posted on LittleMonsters.com. "It was such a special moment. I wore archive Gianni and wore my hair in metallic braids. It was a day I'll never forget.
Artist Bob Wilson seemed similarly happy with the visit when he also posted on Twitter to thank the 'Aura' star for her time.
Lady Gaga came today to Paris to see my video portraits of her — at Musée du Louvre http://t.co/2DAWgbZljv

— Robert Wilson (@Bob___Wilson) January 20, 2014
Check out a picture of Lady Gaga posing outside the Louvre in Paris below (Credit: Getty):
Lady Gaga also seemed to be in a navel-gazing mood this week during her trip when she posted several affirming messages on Twitter as advice to all of her Little Monster followers.
Your talents are like crops in a garden. Cultivate them and they will grow stronger each season. Every market will want your yield. #ARTPOP

— Goddess of Love (@ladygaga) January 21, 2014