Lady Gaga Defends One Direction After They Were Booed At MTV VMAs 2013 - Video
27 August 2013, 11:55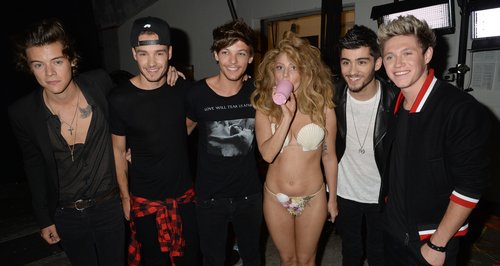 The 'Marry The Night' singer is heard chatting to the band moments of their were booed at the event.
Lady Gaga jumped to the defence of One Direction at the MTV Video Music Awards 2013 over the weekend after they were booed during the awards ceremony.
The UK band picked up the award for Song Of The Summer for their single 'Best Song Ever' on Sunday (25th August) but were greeted with heavy boos during their acceptance speech.
After their appearance Gaga caught up with the UK stars backstage at the Barclays Center in Brooklyn to offer some advice, before posing for a quick picture with Harry, Liam, Louis, Zayn and Niall.
"Iif I did hear what I heard just there I just want to tell you that you deserve every bit of success that you have and don't you dare let those people boo you," Gaga is heard saying in a behind the scenes clip. "I want to leave right now.
Check out Lady Gaga's pep talk to One Direction at the VMAs 2013 below (Warning: Explicit Language):
"I don't even want to stay here, cos I don't want to be in a room where people would do that," the singer continued.
Lady Gaga also performed live at the event when she kicked off the show with a performance of her new single 'Applause', completing a total of four costume changes throughout her one-song show.
Watch Lady Gaga reacting to One Direction being booed during their acceptance speech below: