Lady Gaga Unveils Official Fragrance Artwork For New Perfume Fame
15 June 2012, 12:50 | Updated: 15 June 2012, 15:26
The 'Born This Way' singer has also posted a new backstage shot from her current world tour.
Lady Gaga has unveiled the official advert artwork for her new fragrance Fame, as well as a new behind the scenes picture from her current 'Born This Way Ball' world tour.
The 'Marry The Night' star is currently in Australia on her latest worldwide jaunt, and the first images of her new perfume emerged online yesterday ahead of the product's official announcement.
"And here it is! The first official photograph of my perfume," Gaga tweeted last night (14th June) after performing live in Brisbane to promote her 2011 album 'Born This Way'. "It's called FAME. The First Ever Black Eau De Parfum."
Check out the official artwork for Lady Gaga's new fragrance Fame below (Credit: Twitter):
The 'You & I' singer also shared a shot of her backstage at one of her concerts this week in Brisbane, Australia, in which she is seen wearing an all black outfit of a black shirt, leather jacket and hat.
She posted: "Time for hair and makeup Brisbane. In my dressing room. Ready to Pop. X Mother Monster."
View a picture of Lady Gaga posing ahead of her 'Born This Way Ball' show in Brisbane, Australia below (Credit: Twitter):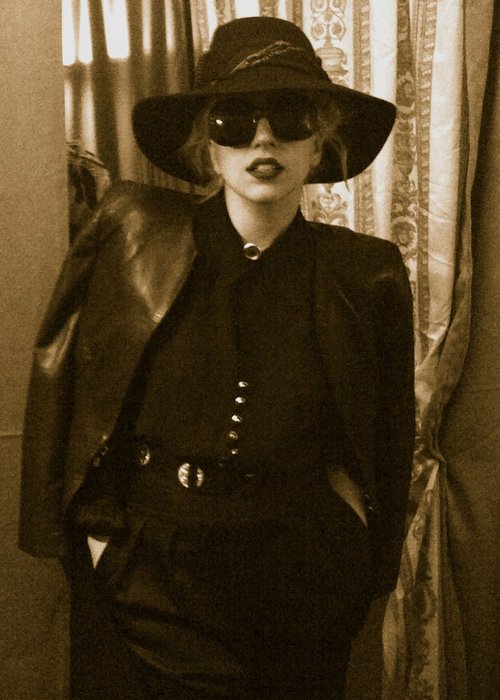 Earlier this week it was confirmed that Gaga will feature on the cover of the September issue of Vogue US.
Lady Gaga will perform her final night of three scheduled performances at the Entertainment Centre in Brisbane tomorrow night (16th June) before heading on to perform in Sydney next week.