Lady Gaga Disses Katy Perry's 'Prismatic' World Tour On Twitter?
9 May 2014, 09:40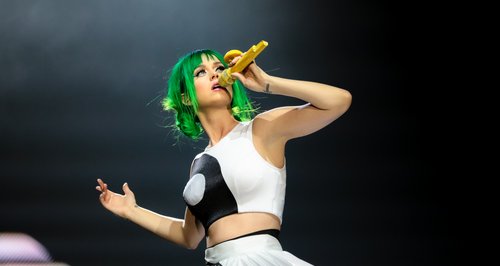 The 'Marry The Night' singer appears to take a dig at the 'Dark Horse' star.
Lady Gaga appears to have dissed Katy Perry and her 'Prismatic' world tour this week.
The 'Bad Romance' singer took to her Twitter account and seemingly accused her fellow female star of copying certain elements of her own live shows.
Gaga took offence to Katy's green hairstyle and riding a mechanical horse after Katy kicked off her new tour in Belfast this week.
It looks like green hair and mechanical horses are the thing now

— Lady Gaga (@ladygaga) May 8, 2014
The horse in question is during Katy's ancient Egyptian set of her show – as Gaga looked to reference her arrival on a white horse at the American Music Awards last year.
Fans of the artists are equally as vocal with one another on Twitter as they stick up for their heroes.
It's not the first time the pair's fans have collided – even when Katy revealed the stage design for her new tour the Little Monsters accused her of copying Gaga.
Both artists have discouraged the bickering between the two camps over the years but it looks like the 'G.U.Y.' singer may have re-opened a wound with this Twitter diss.
You may also like...