MTV VMAs 2013 Performance Videos: Lady Gaga, Katy Perry And Miley Cyrus Perform Live
26 August 2013, 10:39 | Updated: 26 August 2013, 17:22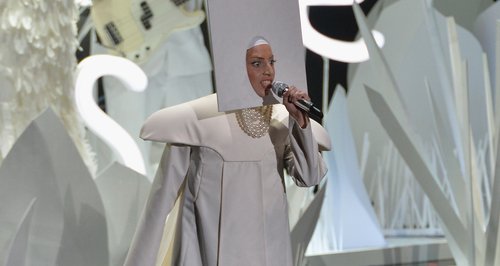 The likes of Robin Thicke, Kanye West and Drake all performed at the industry awards showcase this week in Los Angeles.
Lady Gaga and Katy Perry were among the star performers at this year's MTV Video Music Awards 2013, each performing their brand new singles live on stage.
The 'You & I' singer kicked off the MTV show at the Barclays Center, Brooklyn on Sunday (25th August) with an energetic performance of her new song 'Applause' that saw her changing costumes a total of four times.
Gaga kicked off the performance dressed up in a white nun-style gown and singing solo before the music kicked in and her backing dancers ripped off the outfit to reveal a black leotard.
The 'Marry The Night' star was then dressed up in a blue eighties style suit before returning for the song's final chorus in a shell bikini and a long curly haired wig.
Check out a video of Lady Gaga performing live at the MTV Video Music Awards 2013 below:
Katy Perry also performed live at the VMAs 2013 this year to close out the show, singing from inside a boxing ring as she performed new single 'Roar'.
Watch Katy Perry singing 'Roar' live at the VMAs 2013 below:
The 'Wide Awake' singer kicked off her set sat in the corner of the ring before being joined by her back-up dancers dressed as sparring partners and giving a powerful performance of the song.
Miley Cyrus also provided one of the most memorable performances of the night when she sang recent hit 'We Can't Stop' before stripping off to a flesh-coloured bikini and duetting with Robin Thicke on his hit 'Blurred Lines'.
Check out Miley Cyrus and Robin Thicke's performance at the event below:

#Miley Cyrus - We Cant Stop & Robin Thicke... by sanljivimrf
The MTV Video Music Awards saw the likes of Justin Timberlake, Selena Gomez, Macklemore, Taylor Swift and One Direction all walking away with awards.