Lady Gaga Brings 'ARTPOP' To Life For Jingle Bell Ball 2013 - Setlist
9 December 2013, 09:22 | Updated: 9 December 2013, 13:07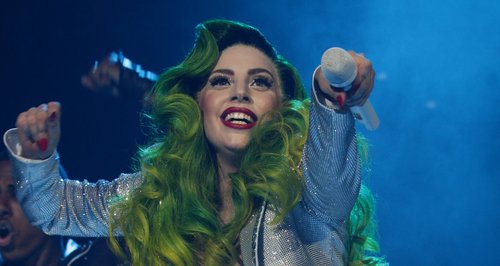 The 'Do What U Want' star wowed with a theatrical performance of new songs from 'ARTPOP' as well as old fan-favourites to close out the show.
Lady Gaga brought the Capital FM Jingle Bell Ball 2013 to a show-stopping close tonight (8th December) after telling fans about her excitement about being back on an arena stage for the first time in seven months.
The 'Venus' star emerged onto the stage dressed up in a silver glittered suit and a green and blonde wig as she performed 'Jingle Bells' sat at the piano, which was built into a purple car.
Lady Gaga then treated the 16,000 screaming fans in attendance to an a cappella performance of her hit 'Poker Face', with the O2 Arena left silent in awe of her vocals.
"I missed you, I did," Gaga announced before jumping out onto the stage to sing her debut single 'Just Dance' backed by a troupe of energetic dancers, strapping on a giant fluffy keytar to end the track.
Check out a snap of Lady Gaga on stage below:
"Are you having a good time tonight London?" Lady Gaga asked, before revealing: "It's been a very exciting day for me because I have not performed since February in an arena because grandma had her hip done. So thank you, for my first night back.
"And I was trying to think of the best way I could possibly thank you," Gaga teased, before heading straight into 'Bad Romance'.
Performing in front of a screen emblazoned with her 'ARTPOP' artwork, Gaga warned the crowd; "I don't want to see anybody sitting! Get out of your seats! I want to see your hands in the air!"
Next up for Lady Gaga's Jingle Bell Ball performance was her 2011 single 'Born This Way', which led straight into a theatrical performance of 'Aura' that saw the US star strapped into a giant cage by her dancers.
Gaga then descended into the stage floor for a costume change, before returning wearing a shell bra, black underwear and black tights to sing recent single 'Do What U Want'.
"I had such a wonderful time tonight, and I'm gonna miss you," the US star told the crowd. "Thanks for making my first night back in the arena so memorable. The only thing I really live for is this… I live for this moment right here, the applause."
Lady Gaga then wrapped up the Capital FM Jingle Bell Ball 2013 with a final performance of her single 'Applause'.
Check out Lady Gaga's full Jingle bell Ball 2013 setlist below:
'Poker Face'
Just Dance'
'Bad Romance'
'Born This Way'
'Aura'