Lady Gaga Wows With Unique Style At Glamour Women Of The Year Awards 2013
12 November 2013, 10:26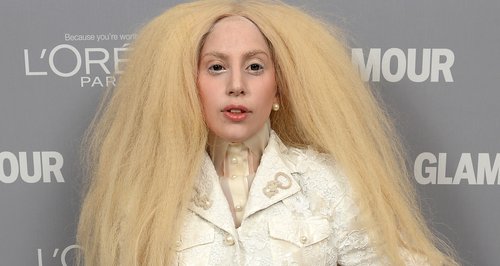 The 'Do What U Want' singer wore white powder make-up and a giant crimped wig for the event.
Lady Gaga shocked with another new look this week while attending the Glamour Women Of The Year Awards 2013.
The 'Applause' singer attended the 23rd annual event in New York City fresh from launching her brand new album 'ARTPOP'.
After showing off a variety of outfits during her stay in the UK earlier this month Gaga continued to showcase her unique fashion style at the event.
The US star opted for a white skirt and matching blazer over the top of a high-collared blouse to attend the awards show, which she paired up with huge platform heels.
But it was Gaga's hair and make-up that drew the most attention, with a platinum blonde, crimped wig matched with white powdered make-up.
Check out a picture of Lady Gaga posing at the Glamour Women Of The Year Awards this week below (Credit: Getty):
The 'Do What U Want' singer was in a celebratory mood this week after launching 'ARTPOP' on Monday (11th November), alongside her album's special app.
View another show of Lady Gaga at the event below (Credit: Getty):
"Just chatted with monsters via the App while they're hearing the album for the first time. Ahhhhhh! I love ARTPOP!" Gaga tweeted yesterday.
Lady Gaga is set to play the second night of the Capital FM Jingle Bell Ball 2013 on 8th December.