Lady Gaga Unveils Full New Album 'ARTPOP' Tracklist And Confirms R Kelly Team-Up
10 October 2013, 09:08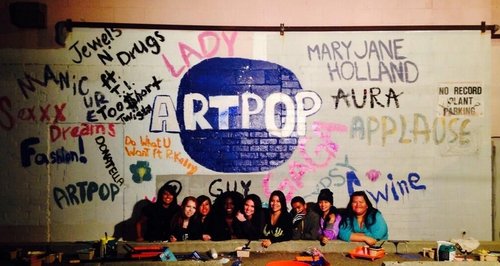 The 'Applause' singer revealed the full list through a mural created by some of her dedicated fans.
Lady Gaga has officially unveiled the full track listing for her brand new album 'ARTPOP'.
The 'Marry The Night' singer has been teasing fans about the reveal for several weeks, and officially revealed which songs had made the cut last night (9th October).
Lady Gaga also commissioned a group of fans to design a graffiti-style mural to announce the track listing, after being impressed with their dedication to her.
"To announce the ARTPOP track list I've commissioned a mural by my most dedicated Los Angeles fans," Gaga tweeted Wednesday. "Known as the LA Rivington Rebels, they've been sleeping outside of the Record Plant (my studio) for a month!"
Among the track list is Gaga's recent single 'Applause', as well as songs like 'MANiCURE', 'Swine' and 'Aura', that she performed for the first time at last month's iTunes Festival 2013.
Previously unknown songs include 'Mary Jane holland', 'Venus' and a team-up with R Kelly called 'Do What U Want'.
Lady Gaga officially releases new album 'ARTPOP' on 11th November.
Check out the official track listing for lady Gaga's 'ARTPOP' below:
'Aura'
'Venus'
'G.U.Y.'
'Sexxx Dreams'
'Jewels N' Dgus' Feat. T.I., Too $hosrt & Twista
'MANiCURE'
'Do What U Want' Feat. R Kelly
'ARTPOP'
'Swine'
'Donatella'
'Fashion!'
'Mary Jane Holland'
'Dope'
'Gypsy'
'Applause'