Lady Gaga Shares First Teaser Picture From Music Video For New Song 'Applause'
19 August 2013, 12:08 | Updated: 19 August 2013, 12:12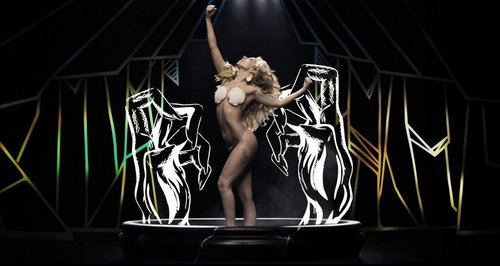 The 'Marry The Night' star shares a still from the new video, which drops online this afternoon.
Lady Gaga has posted up the first teaser image from her music video for new song 'Applause', just aways away from the first play of the new promo.
The 'You & I' singer is set to drop her first music video in almost two years this afternoon (19th August), and gave fans their first glimpse at the highly anticipated promo on Twitter today.
"Get ready for #APPLAUSEVID819 IN 1.5 HRS!" Lady Gaga tweeted alongside the teaser picture. "Tune in to @gma soon for my arrival I love you monsters! #BotticelliBabe.
"I know this sounds weird but, I can't believe I'm gonna be on TV today for an interview!" the US star also posted this morning. "It's been so long, I can't wait to see your smiles!"
Check out a picture of Lady Gaga showing off her black hair on the streets of New York:
Last night the 'Marry The Night' singer said she is "so excited" to premiere the 'Applause' video and to experience it with fans as they watch it for the first time.
Lady Gaga also stopped to sign autographs for fans over the weekend, as seen below (Credit: PA):
Lady Gaga unveiled new single 'Applause' last week as the lead track from her new album 'ARTPOP', which officially drops on 11th November.