Lady Gaga Goes Nude For New Abramovic Technique Kickstarter Project Video
8 August 2013, 09:53 | Updated: 8 August 2013, 09:58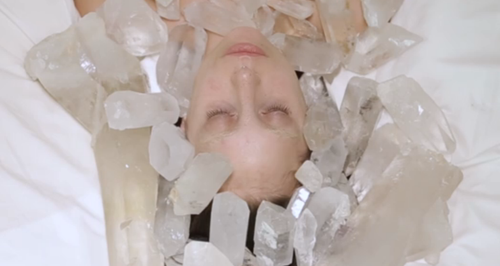 The 'ARTPOP' singer goes completely naked to help raise funds for the new exercise centre.
Lady Gaga has bared all after going nude to promote a new Kickstarter project to build a venue for practising exercise regime the Abramovic message.
The 'Marry The Night' singer features in the new video unveiled to help promote the project for New York City based Serbian performance artist Marina Abramovic.
Lady Gaga is seen in various poses throughout the promotional video, including wading through a stream naked and cuddling a large crystal while lying nude on the floor.
The project is asking for a total pledge of $600,000 to launch the Marina Abramovic and has so far received over $200,000 since Lady Gaga's endorsement of the new exercise style.
Check out a picture of Lady Gaga in the new promo video below:
Earlier this month Lady Gaga confirmed her brand new single 'Applause' and has unveiled a number of new song lyrics for the track this week, ahead of it's official release on 19th August.
The 'Born This Way' singer curls up around a healing crystal below:
Lady Gaga will also release her new album 'ARTPOP' on 11th November, with a track called 'Aura' seemingly leaking from the record this week.