Justin Bieber Cancelled The Rest Of His World Tour And Fans Have Questions Over His Statement
25 July 2017, 08:30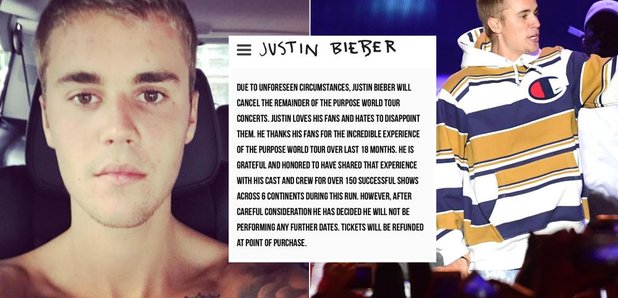 It's without doubt been one of the biggest tours of it's kind, travelling 6 continents over 16 months but the #PurposeTour is no more!
A statement was posted on Justin's website explaining that the show was coming to an end earlier than expected.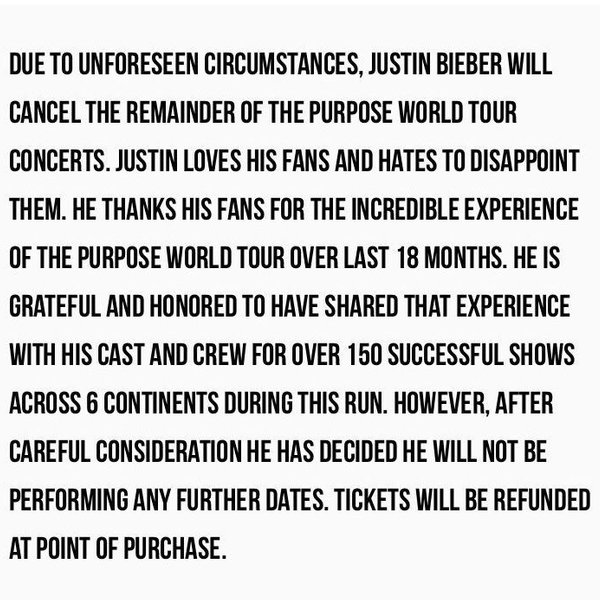 Pic:JustinBieberMusic.com
"Due to unforeseen circumstances, Justin Bieber will cancel the remainder of the Purpose World Tour concerts. Justin loves his fans and hates to disappoint them. He thanks his fans for the incredible experience of the Purpose World Tour over last 18 months."
The statement continued, "He is grateful and honored to have shared that experience with his cast and crew for over 150 successful shows across 6 continents during this run. However, after careful consideration he has decided he will not be performing any further dates. Tickets will be refunded at point of purchase."
Scooter Braun, Justin's manager congratulated him on 'incredible run' whilst also asking for fans to stop commenting on his Instagram.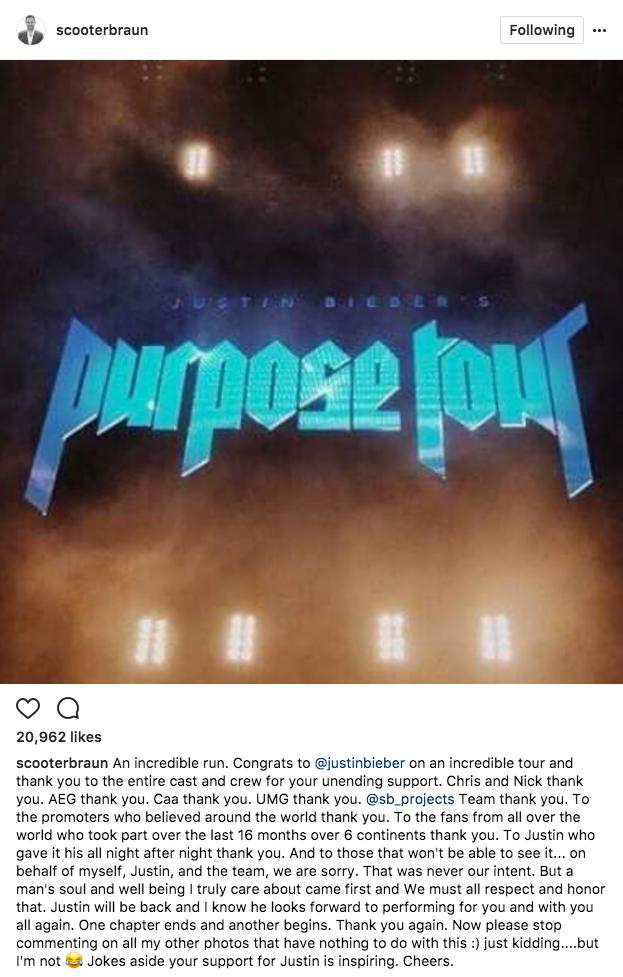 Pic: Instsgram/ScooterBraun
Straight away fans were quick to defend Justin highlighting that the media would focus on the fact he's cancelled the remaining shows as opposed to the fact he's done 16 months previous.
What the media is focusing on: Justin cancelled 14 shows of purpose tour.

What the media should focus on: Justin did 150 shows in 2 years.

— Hi, I'm Dima (@________Dima) July 25, 2017
Whilst others focussed on the money that was going to be lost after the shows being cancelled.
Wow, Justin Bieber just cancelled the remaining 14 shows of his tour, including both at the Rogers Centre. MILLIONS of ticket $ to return.

— Greg Brady (@sn590gbrady) July 24, 2017
Justin Bieber cancelled his 14 date tour because he's "just over it" LMAO wish I could not show up to work and use that same excuse but w/e

— no. (@thisisnotbrianm) July 24, 2017
justin probably cancelled his tour to become a pastor

— i saw him (@lookngfryou) July 24, 2017
However, Beliebers everywhere have stuck up for their boy.
If you are unstanning Justin because he cancelled the Purpose tour.. pic.twitter.com/pjXXer1XGm

— Maya (@bizzleharder) July 24, 2017
Me after finding out Justin Bieber cancelled his Purpose World Tour pic.twitter.com/7HBpdGYNLA

— fab_shay (@fabshayy) July 24, 2017
They kept adding more and more dates to the tour, no wonder Justin has cancelled, he must be exhausted, I'm glad hes looking out for himself

— ciara (@ibieberthought) July 24, 2017
At least now the tour is cancelled he won't have to face bottles being thrown at him for refusing to sing Despacito: