He's ALWAYS Topless - And 13 Other Reasons Why Justin Bieber Is Awesome In Vine Form
1 September 2014, 11:05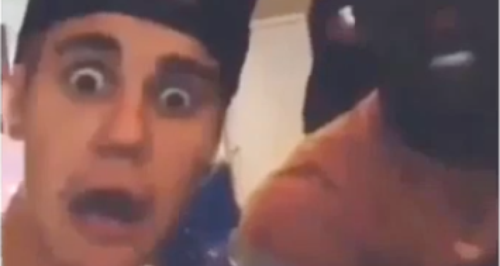 As well as being ALL KINDS of hot, Biebs is a man of many, many talents. We've chosen the top 13 reasons why he's awesome in six-second chunks.
When Justin Bieber's not making hits in the studio he can often be found being pretty hilarious, often without a shirt on. We're definitely not complaining…
He's gone from being a fluffy haired pop pup from Canada to the world's biggest pop star - and he has some pretty HUGE fans. Seriously, wait until you see who's been fangirling over the Biebs.
Here are the top 13 reasons why Justin Bieber is all round awesome via six-second videos of pure gold.
1. He's a cowboy
JB has many different personas, from Ghetto Bieber to this random country version. We still fancy all of them, of course…
2. He doesn't walk, he waddles
The trouble with wearing your trousers below your actual bum is that you tend to walk a bit like a duck.
3. He is IMPOSSIBLE to distract
Like seriously, even boobs don't work. Props to this girl for trying though, but Justin's iron will is impossible to break.
4. When he does roller disco, he REALLY goes for it
It's not easy to roller-skate in leather. No, really, imagine physical exertion + non-breathable material. #sweatinghell
5. Even cats like to sing his songs
The Biebs' music isn't just for humans, you know!
6. Despite having squillions in the bank, he's not one to leave a free hotel shampoo
At least he draws the line at the bathrobes, though…
7. He LOVES a selfie
Anyone that has him on Instagram or 'Shots' knows there's nothing better (or more plentiful) than a good Bieber selfie. More please.
8. He does a LOT for charity
There's a reason Justin got the 'Champ of Charity' award at this year's Young Hollywood Awards, and there's nothing nicer than a celeb that likes to give back. Too cute!
9. You can't help but dream about him
Could get you in trouble. Definitely worth it. #sorrynotsorry
10. He's so springy
SO. SPRINGY. He's like a half kangaroo, half hot man - and that combination is weirdly attractive. The fact he's shirtless doesn't hurt, either.
11. He's shirtless like 90% of the time
THANK YOU JESUS. With a body like that it would be a CRIME to wear clothes.
12. The boy can DANCE
Those hip thrusts are enough to make a nun cry, and there's nothing more sexy than a man that can MOVE!
13. His basketball trick shots are UNREAL
How does he do it? Nobody knows. If he ever gets bored of making music (let this day NEVER come), he could always have a career in basketball with skillz like these…
14. Even Jesus is a fan
Because you're never too famous to get excited by a name check from Justin Bieber. Lols.
You May Also Like: