Justin Bieber Dances On Great Wall Of China In Leaked 'All That Matters' Music Video
16 October 2013, 11:01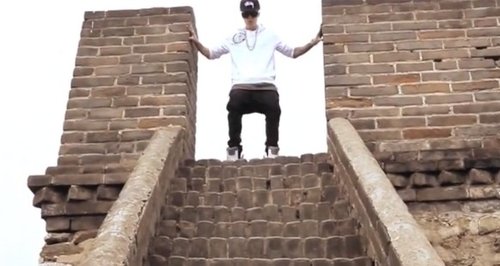 The 'Beauty And A Beat' singer is seen showing off his moves on the world landmark in his new video.
Justin Bieber's music video for new song 'All That Matters' has emerged online fresh from the single's release this week.
The video was filmed during Justin's visit to China back in September, and sees him showing off his dance moves on the iconic Great Wall Of China landmark.
The 'All The Matters' video emerged through various online outlets on Tuesday (15th October), having apparently leaked without any accompanying audio.
Justin is seen dancing around the local area in the video, as well as singing from a cable car and being sat on a motorbike at various points.
The 'Beauty And A Beat' singer has vowed to unveil new music every monday for the next few weeks as part of his #MusicMondays campaign.
Last month Justin Bieber also unveiled his brand new single 'Heartbreaker' back in September.
Watch Justin Bieber in the leaked video for 'All That Matters' below: