'I Always Knew She Was A SNAKE' Taylor Swift's Now Accused Of Trying To Split Up Fifth Harmony
19 July 2016, 16:49 | Updated: 20 July 2016, 08:06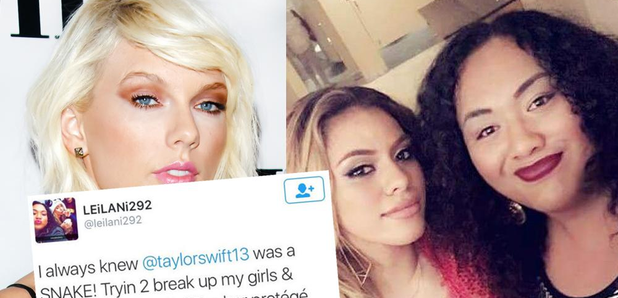 Just when you thought it couldn't get even more crazy, this just happened...
So yeah this just happened.
With all the drama that's been going on surrounding Taylor Swift lately, we really didn't see this revelation coming out.
Fifth Harmony member Dinah-Jane's aunt has accused the 'Bad Blood' singer of trying to split up the much loved girl group by posting a wild message on Twitter.
@leilani292 is straight savage. I just found this on Instagram. I'm in love with the tweet pic.twitter.com/ON0a1EaMrX

— Hailey (@OT5_love) July 19, 2016
She went on to delete it but it's a huge accusation that just be ignored.
However Dinah's aunt Leilani has now claimed that a hacker got into her Twitter account and posted the bold message to Tay. What do you make of that?
Omgawsh apologies @camilacabello97 @taylorswift13 @dinahjane97 that crazy hacker hacked my page & again! https://t.co/Y9GT1iI7yJ

— LEiLANi292 (@leilani292) July 19, 2016
Fans have been sharing their thoughts on Twitter too...
i did love @FifthHarmony but now i love @dinahjane97 s aunt @leilani292 she ain't afraid to speak her mind and throwing truth bombs

— 5H Are Dope (@5hdefencesquad2) July 19, 2016
The answer/info harmonizers really need. Thank you @leilani292 #KimExplosedTaylorParty pic.twitter.com/R08OPA6BRJ

— Dianne 7/27 (@laurencamren5h) July 19, 2016
Oh mah gawd @leilani292 I'm dead on the floor. Somebody give her an award for dragging poor little Taylor pic.twitter.com/4xL3J4oprN

— Camille Perry ⁷∕₂₇ (@realwolfcamillo) July 19, 2016
@leilani292 @taylorswift13 stop trying to get attention, camila wants a solo career, it is not taylor's fault

— nick (@slayvigne) July 19, 2016
So we'll have to watch this space with that one. We REALLY hope these girls aren't breaking up though!
You may also like...