Summertime Ball Dance-Off! It's Little Mix Vs Fifth Harmony!
9 June 2015, 14:17 | Updated: 12 June 2015, 14:15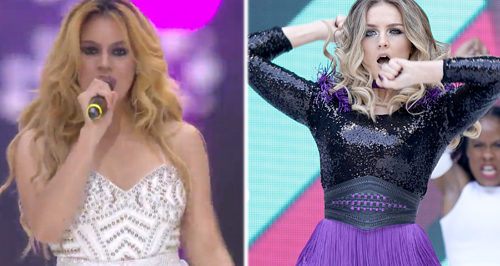 Both girl bands have proven they've got some serious moves as they rocked our #CapitalSTB stage. But whose moves really take the biscuit?
We're already campaigning to make them into one AMAZING super-group, but until then we're forced to pick between Little Mix and Fifth Harmony for who should be crowned dancing queens of our Summertime Ball 2015 With Vodafone. So we need your help...
We've broken the dance routines to 'Worth It' and 'Black Magic' down in to some rather sassy GIFs for you to help make this impossible decision a little easier...
1. Best Hair Whip - Jade Vs. Camila
2. Top Synchronised Moment - Little Mix Vs. Fifth Harmony
3. Greatest Sexy Move - Jade Vs. Ally
4. Best Kept Balance - Little Mix Vs. Fifth Harmony
5. Finest Close-Up - Leigh-Anne Vs. Lauren
6. Biggest Crowd Pleaser - Little Mix Vs. Fifth Harmony
7. Bad Ass Booty Pop - Little Mix Vs. Fifth Harmony
GET VOTING HERE:
Watch Little Mix perform 'Black Magic' at the Capital Summertime Ball with Vodafone
Watch Fifth Harmony perform 'Worth It' at the Capital Summertime Ball with Vodafone