Ed Sheeran To Raise Money For Duchess Of Cambridge Charity With New Signature Guitar
9 July 2013, 12:32
The 'Lego House' man has teamed up with Martin to create his own instrument.
Ed Sheeran has unveiled his finished Martin signature guitar and will raise money for the Duchess Of Cambridge's charity with sales of the instrument.
The 'You Need Me, I Don't Need You' singer has been working on the collaborative project for many months and it's now been revealed royalties will go East Anglia's Children's Hospices.
As well as that, the guitars will also feautue the name of the charity as well as the star's '+' logo.
"It was a huge privilege to have the opportunity to collaborate with Martin Guitar. I have been a fan of Martin since I started playing guitar and song writing, and I am honoured to have a Signature Edition that bears my own personal imprint," revealed Ed to Cambridge News.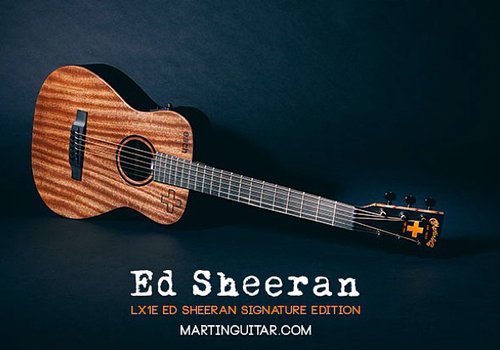 "I can't wait to get on stage and perform with it for my fans - I hope they enjoy my new Martin as much as I do!"
EACH fundraiser Vanessa Bell said: "We're thrilled Ed has chosen Each to benefit from the sales of the guitar – it's a great way to raise funds and promote the work of EACH to a really wide audience, thanks to his millions of fans.
"To have a signature guitar created really must be a milestone in his career so it's really touching to think EACH is at the forefront of Ed's mind and shows just how grounded he is."
Meanwhile, Ed is currently heading around North America as the support act for Taylor Swift.