Ed Sheeran's New Album: 14 Things To Expect From 'X'
1 May 2014, 09:30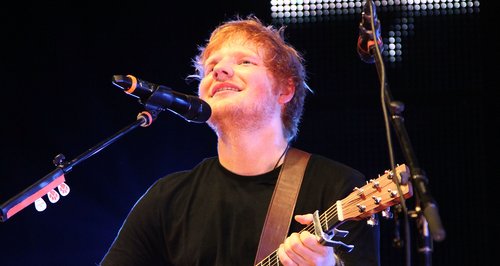 As the world awaits news of Ed's second studio album, out on 23rd June, here's 14 things you can expect when the 'A Team' superstar returns.
Ed Sheeran is set to return with his highly anticipated second studio album in June this year and his millions of fans around the world can't wait to get a taste of the new sound Ed has in store for them.
It's been two long years since the UK singer-songwriter burst onto the music scene with his debut release '+', and Ed now has a string of hit singles, some hundreds of live shows and a number of big name team-ups behind him now.
Get yourselves well and truly ready for Ed's new release before the 'Lego House' star heads out on the road for his newly announced UK arena tour in October with these 14 things to expect.
Ed Sheeran releases his new album 'X' on 23rd June while lead single 'Sing' drops on 1st June.
1. Get ready for something new and original from Mr. Sheeran! Plus if his recent hit single 'I See Fire' is anything to go by... you're in for a treat!
2. Of course it doesn't hurt that Ed's BFF Taylor Swift has been helping him pick out the songs for album two! Ed says Ms. Swift has heard every track from the new record and is a "good judge of what's good or not".
3. And don't worry... Ed's manager has confirmed the album WILL be out by the time he hits the road again later this year!
the new album will be out by time of the tour, news on that soon..

— Stuart (@StuartCamp) January 6, 2014
4. Of course if Ed's excited... we're excited too!
I'm so excited to put this album out. So excited

— Ed Sheeran (@edsheeran) January 3, 2014
5. Did we mention that PHARRELL WILLIAMS has been involved with the album in some way? As in, the gent behind two of the biggest hits of 2013? (Credit: Splash):
6. Ed also recently teamed up with Lupe Fiasco for his song 'Old School Love'. Could the rapper repay the favour on Ed's latest?
7. Get a taste of Ed's new sound with this AMAZING performance of 'So In Love' (one of his favourites from the new album!):
8. Expect an unusual name for the album as well!
Ed recently told the Daily Star: "I can't call an album '+' and then give the one after a regular name!" What could the title be?
9. Last minute additions! Ed was working on new tracks for the record as recently as this week!
Adding a last minute song to the album

— Ed Sheeran (@edsheeran) January 2, 2014
10. It's all about to get a bit deep!
Ed told The Review that his second album is about a lot of the drama that's happened in his personal life over the past year or two!
11. A rap superstar in the making?
We wouldn't be surprised if the UK star dropped a rap verse or two on the record after hanging out with Macklemore recently on the road!
12. Influences from across the music world!
Ed's previously revealed he has been in the studio with everyone from The Game to Rudimental, and even Christina Aguilera says she wants a duet with the 'Lego House' star! But whether any of them show up on album two remains to be seen!
13. One hell of a production! The 'A Team' singer has been working with the legendary producer Rick Rubin on this new record!
14. Plus Ed's good pal Labrinth has also been involved... so expect some true hits on Ed's next album! (Credit: Twitter):