Demi Lovato Posted A Random Picture Of Herself In A Wedding Dress & Fans Think They've Predicted Why
23 November 2017, 11:03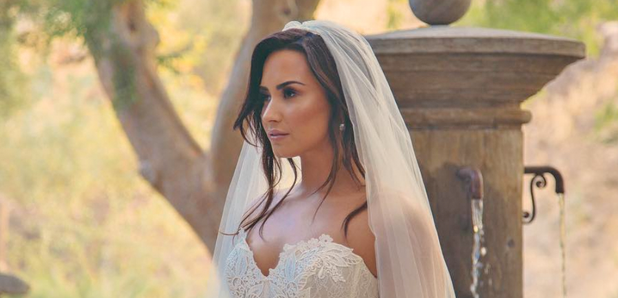 Why no caption Demi? WHY?!
These days celebrity Instagram accounts are our biggest insight into a stars everyday life.
So when Demi Lovato posted a picture of herself in a wedding dress with absolutley no caption on her Instagram, everyone was absolutely baffled.
> Demi Lovato Accused Of Slamming Korean Boyband BTS With Xenophobic Quotes In Savage Fake Tweets
Check out the picture below to get a taste of exactly what we're tlaking about...
Surely Demi wasn't hinting that she'd gotten married secretly? Nah, deffo not.
Some fans think they've guessed exactly why Demi has posted the random pic and it's all to do with her song 'Tell Me You Love Me'. According to most Demi fans, they think the pic is a still from the upcoming music video for the track and it kinda makes a lot of sense.
demi in a freaking wedding dress for the TMYLM video is my aesthetic
i mean common @ddlovato this is huge

— sophie (@birthmarktwinAG) November 22, 2017
DEMI IN A WEDDING DRESS FOR TMYLM VIDEO IM CRYING

— hani (@demiaintsorry) November 22, 2017
Demi wearing a wedding dress is now my favorite thing

— dani (@souIrise) November 22, 2017
i'm having a mental breakdown over a pic of demi in a wedding dress for a music video imagine the day she actually gets married pic.twitter.com/dTTxb5i8T4

— dom the platypus (@CMONPUDDlN) November 22, 2017
I can't believe demi just casually dropped a picture of her in a wedding dress with no caption and left twitter in shambles ugh what a legend

— ً (@overthehiIIs) November 22, 2017
OH TELL ME YOU LOVE ME, I NEED SOMEONE ON DAYS LIKE THIS, I DO, ON DAYS LIKE THIS... pic.twitter.com/9uL5NM3kGS

— Demi Lovato Army (@LovatoArmyUS) November 22, 2017
Lyrics in the song hear Demi sing 'Everything I need / Is standing right in front of me / I know that we will be alright, alright, yeah' so could she be talking about walking up the aisle? That would deffo mean the wedding dress would make sense!
We'll keep our fingers crossed.
> Download Our Fancy New App For All The Latest Demi Lovato Chat!
Whilst you're here, check out what happened when Demi Lovato serenaded Jimmy Fallon wirh a bunch of 2017 hits...