Demi Lovato Defends Her Sobriety After 'Photoshopped' Pic Emerges
11 April 2018, 16:22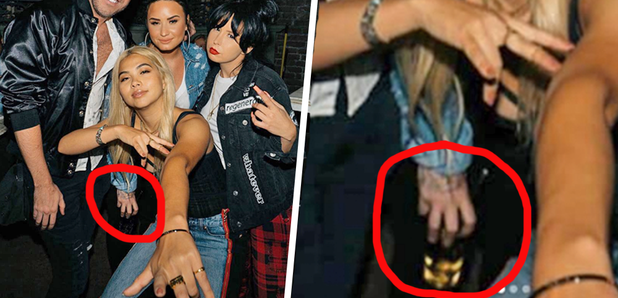 A fan spotted the edited image and started asking some serious questions about the truth on Demi's much-celebrated sobriety.
It's no secret that Demi Lovato has been sober for the last six years. The 'Sorry Not Sorry' singer has been vocal about her past addiction to drugs and alcohol and has spoken openly on many occasions about her sobriety.
It was only back in March that Demi revealed it was exactly six years that she'd stayed sober for and she was praised by many people for her honesty around the subject.
Just officially turned 6 years sober. So grateful for another year of joy, health and happiness. It IS possible.

— Demi Lovato (@ddlovato) March 15, 2018
> Demi Lovato Has Just Schooled The World On How To Flirt On Instagram

However one person has now questioned Demi's sobriety by questioning a picture that appears to have been photoshopped and it's drawn a response from the star herself who's explained the situation.
As you can see from the picture above, Demi was on a night out with friends Matthew Scott Montgomery, Sirah and Hayley Kiyoko and in the snap, which was shared by Matthew and Sirah, you can see that Demi isn't holding anything (even though she appears to be clutching something).
But in the same picture, which was initially shared by Hayley Kiyoko before she deleted it, you can clearly see that Demi is holding a drink, which makes sense with the way her hand is posed.
After spotting the seemingly photoshopped image, one user took to Instagram to question what exactly was going on and whether the glass was removed because it showed Demi had broken her sobriety?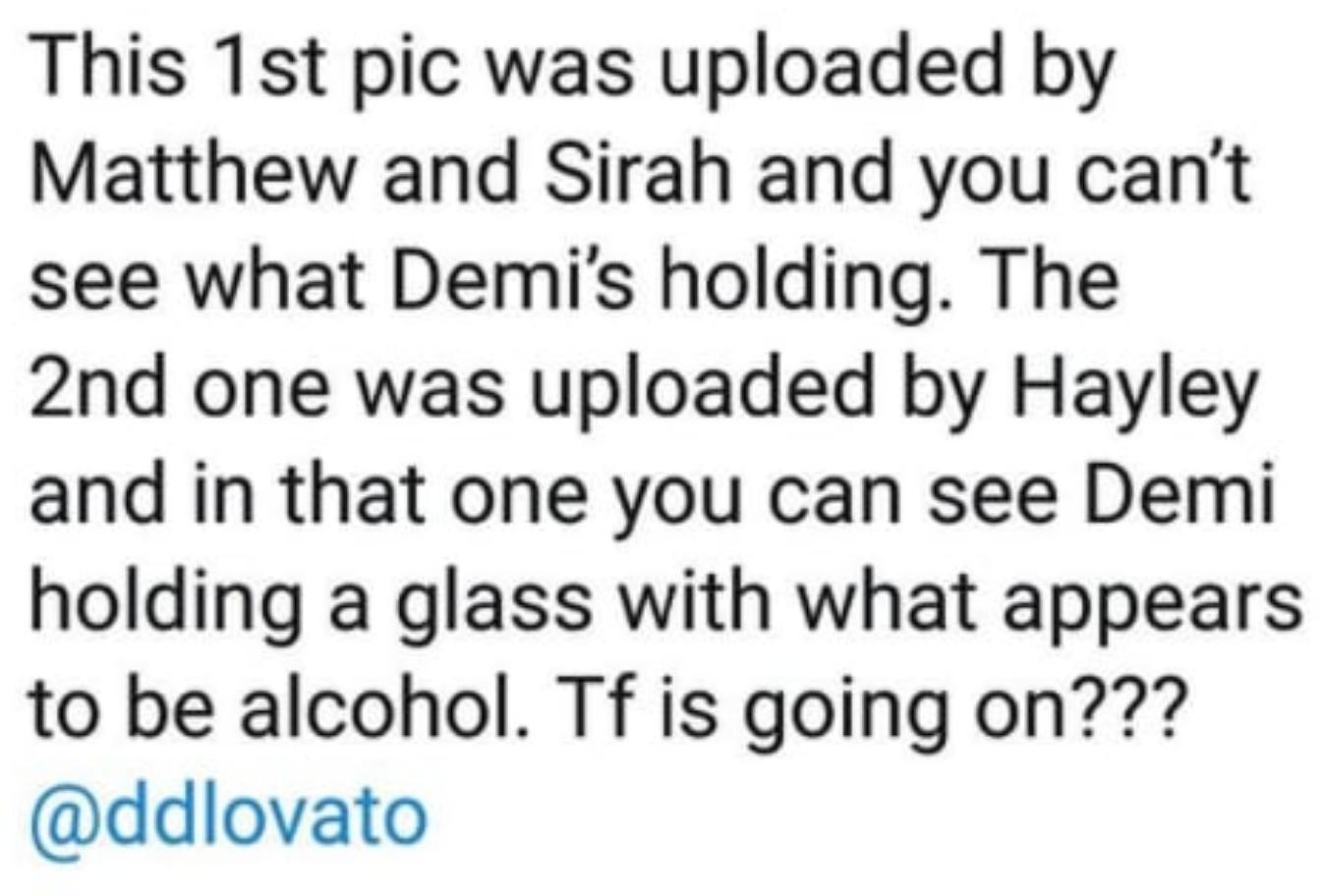 Another fan questioned why two of Demi's BFFs had posted the image with the drink removed whilst Hayley, who Demi isn't quite as close to, had posted and then deleted the unedited pic.
With the speculation beginning to build, Demi then took to Instagram herself and replied, claiming 'I don't have to defend anything but it was red bull'...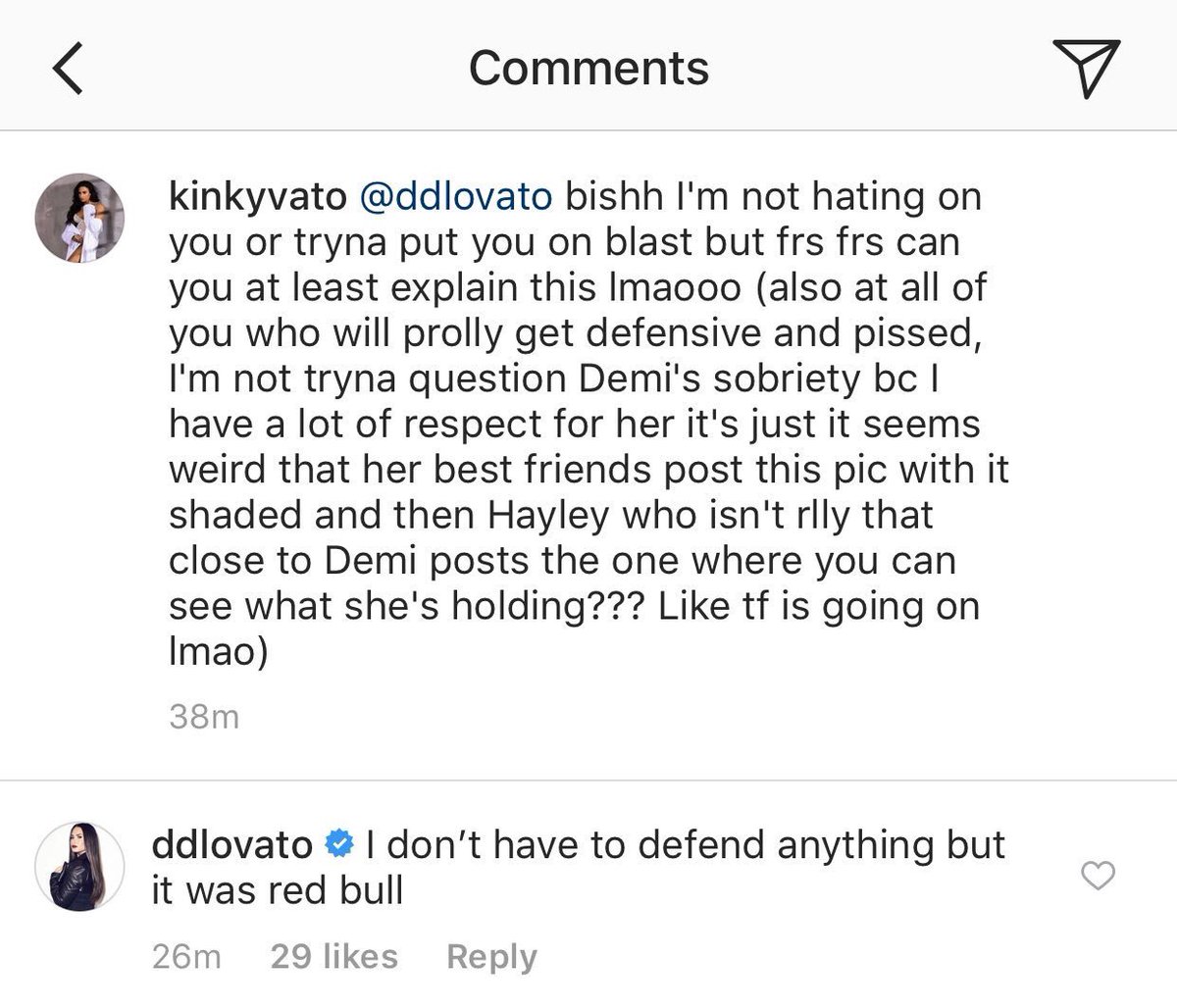 Being very proud of her six year sobriety, the new speculation must've come as a bitter blow to Demi and her fans jumped straight to her defence...
demi honestly can't go to a party or literally out anywhere and be seen holding any type of drink without y'all questioning her sobriety. like what do you want her to do? sit at home and knit for the rest of her life?? tf

— mae (@ruinthethrill) April 7, 2018
Don't call yourself a Lovatic if you question Demi's sobriety especially shortly after she celebrated her 6th anniversary of it. There's a difference between caffeine and alcohol. Even she can still go clubbing with her friends without feeling the need to break her sobriety.

— Alessandra (@scarrednblessed) April 7, 2018
the ugliest thing about that post was the person acting as if Demi owes us an explanation for holding a cup, like even if it was alcohol (which it wasn't and y'all gotta stop doubting her sobriety at every chance) it wouldn't be any of our business

— nat (@lgbtDemetria) April 7, 2018
> Download Our Free App For Loads More Demi News!
Whilst you're here, check out Demi & Khelani's steamy kiss on stage recently...