13 Huge Calvin Harris Anthems To Get You Hyped For A Hot, Hot Summer
19 April 2018, 11:10 | Updated: 19 April 2018, 11:12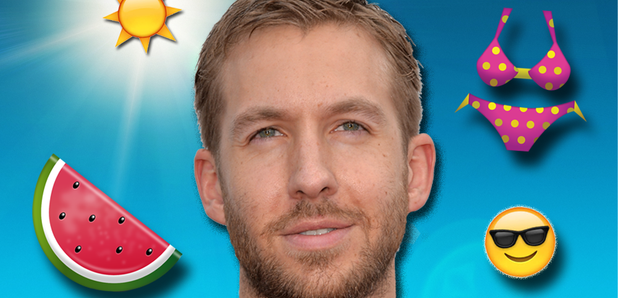 To get you in the mood for some sunshine, we take a look back some of Calvin's hottest hits!
It's hot. Calvin Harris makes amazing summer-feel tunes. Of course we had to put together a playlist of our favourite anthems from the Scottish DJ didn't we!
Whether you're grilling on the BBQ, topping up the sun tan lotion or chilling in the pool, these songs will make sure you fully embrace the summer vibes that are all around us right now. So what are you waiting for? Get involved peeps...
1. 'Let's Go' featuring Ne-Yo
The third single from Calvin's massive album '18 Months' was a huge hit in summer 2012 - the brilliant featured vocals from Ne-Yo just makes it even better!
2. 'We Found Love'
Rihanna's track, produced by Calvin, was one of the biggest hits of 2011 and is one of our favourite ever RiRi hits! The Bajan beauty flew to the UK to film the video in Northern Ireland with her then lover, Dudley O'Shaughnessy. Calvin even makes a cheeky cameo DJing in a muddy field. 'We Found Love' spent four weeks at No. 1 on the Vodafone Big Top 40 too don't ya know.
3. 'Dance Wiv Me'
We'll forgive you for not remembering that Calvin appeared on this huge track from Dizzee Rascal - and you probably won't notice him in the video either! Cal, you've definitely got better with age, 2008 wasn't your best year for hairstyles!
4. 'The Girls'
'The Girls' was the biggest selling hit from Calvin's debut album 'I Created Disco'. The video, as you'd expect, features lots of girls dancing around the Scottish DJ (we're sure he hated that!)
5. 'Ready For The Weekend'
We have to say that this is an absolute anthem! Not only does the track, released in 2009, get us ready for the weekend, it gets us ready for summer! Put the shades on and get partying!
6. 'Thinking About You'
The final track to be taken from his album '18 Months' was this belter, which features vocals from Ayah Mara. It was one of the biggest party tunes of summer 2013 and the video, which was filmed in LA, makes us wish we were on a boat in the sun (well, until the pirates hijack it that is)!
7. 'Summer'
Tbh thi sone's all in the title, so you czan't really go wrong! Capital had a world exclusive play of Calvin's massive single when it first dropped and it's totally got us ready for some fun in the sun! Surely this one can even stop the rain for spoiling the party, right?
8. 'I Need Your Love' ft Ellie Goulding
If this isn't one of the biggest anthems on your summer playlist then what are you playing at? Ellie's powerful vocals alongside Calvin's superb prduction make this one of the hottest tracks the Scot has ever released!
9. 'How Deep Is Your Love' with Disciples
When Calvin teamed up with Disciples for this tune back in 2015, we were in total awe. Even after listining to this absolute smash hit at least 46237482 times we still completely love it - the sign of an incredible summer tune we say.
10. 'My Way'
When it comes to pary starters, 'My Way' is one of those Calvin Harris tracks that just never fails to impress. If it doesn't get you up dancing - even in the hot weather - you're just not doing it right. Soz.
11. 'This Is What You Came For' ft Rihanna
When it comes to collabs, Calvin and Rihanna have got the formula absoutely nailed to perfection. Every son they work on together is total gold and TIWYCF is one of those summer songs we will never get tired of.
12. 'Slide' ft Frank Ocean and Migos
With Calvin's latest album 'Funk Wav Bounces Vol.1' set to be released in June, the super-producer decided to release this tune as the first single from it and boy are we glad he did. 'Slide' epitmoses everything we love about summer songs - from the smooth melodies to the dancefloor feel - what a way to set off the new era Calvin!
13. 'Bounce' ft Kelis
If summer was a song, it would be this. Fact.
You may also like...