Bruno Mars Rocks Out During Explosive Super Bowl Halftime Show Performance – Video
3 February 2014, 07:56 | Updated: 3 February 2014, 13:50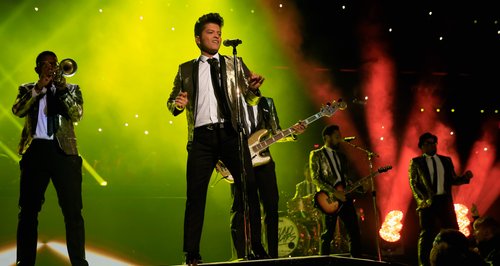 The 'Treasure' star was also joined by Red Hot Chili Peppers for a set full of energy, dance and a few tender moments.
Bruno Mars went down with the Super Bowl halftime show greats last night (2nd February) as he rocked the stage at the MetLife Stadium, New Jersey.
The US star had the honour of performing during the huge NFL match between the Denver Broncos and Seattle Seahawks.
The performance opened with a children's choir singing 'Billionaire' before Bruno got things truly rocking from behind the drum-kit.
It was then into a full-on assault of hits as 'Locked Out Of Heaven' got everyone on their feet and those feet were soon dancing to the tune of 'Treasure'.
His own dance moves were on show for all to see, and the unity between his band had never been more palpable.
@BrunoMars ....... THANK YOU my brother! Thank you!!! #SuperBowlHalfTime

— Rihanna (@rihanna) February 3, 2014
Then everyone was jumping as the Red Hot Chili Peppers came onstage for 'Give It Away' complete with Bruno vocals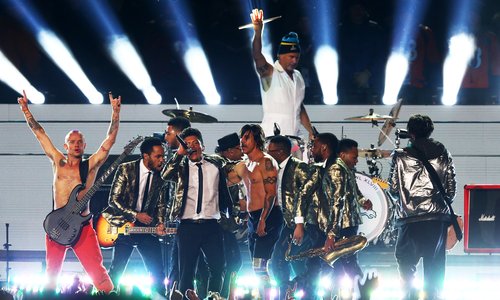 Tribute messages from US troops were shown on the screen as the tender 'Just The Way You Are' began and a pyrotechnic display to end all pyrotechnic displays ended the performance with Bruno's powerful vocals ringing out inside the stadium.
He also paid tribute to his own mother, who passed away in 2013, with her name 'Bernadette' on his drum-kit.
Bruno Mars' Super Bowl halftime show set was:
'Billionaire' (sung by Children's choir)
'Locked Out Of Heaven' w drum solo intro
'Treasure'
'Runaway Baby'
'Give It Away' w/Red Hot Chili Peppers
'Just The Way You Are'
Bruno and the RHCP, a masterclass in performing!

— Adam Pitts (@LawsonAdam) February 3, 2014
The game was eventually won by the Seattle Seahawks who trounced the Denver Broncos by a massive 43-8.
Congratulatory messages from Bruno's musical peers continued to pour into the night, with the likes of Will.i.am, Rihanna and Lawson all impressed at the superstar's performance.
Who should perform at the Super Bowl HalfTime Show 2015? Early reports have tipped the likes of Jay-Z, Pearl Jam, Pink and Rihanna as likely candiates for the role.
Keep it Capital for all the first news on next year's halftime show.