WATCH: Britney Spears Has A Wardrobe Malfunction On Stage And Her Dancers Freak Out
19 October 2015, 10:14 | Updated: 19 October 2015, 11:11
Britney Spears - "3" Wardrobe Malfunction in Las Vegas (10-16-15)
03:36
Britters' backing dancers frantically tried to fix her zip during a performance – but she just carried on like a trooper!
Britney Spears is no stranger to a wardrobe malfunction or two – remember the time her hair extensions fell out on stage? – but she's learnt how to carry on like a trooper, which definitely came in handy over the weekend…
During one of her 'Piece Of Me' shows on her Las Vegas residency, Britney's bodysuit decided to misbehave – and the zip slipped all the way down the back, leaving her flashing a bit more flesh than she intended. (It's around the 1.20 mark for those of you who just want to get straight to the nitty gritty).
While it wouldn't have been that bad if they'd left it alone, her backing dancers made the whole debacle SO much more obvious by frantically following her around the stage trying to do the zip up.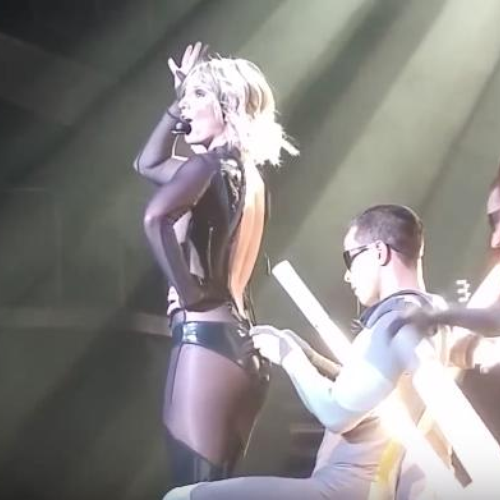 Britney, on the other hand, carried on with her dance moves like a total pro – her clothes letting her down was not going to stop her putting on a spectacular show!
Miss Spears has just started the new leg of her residency which she extended for two more years. She said at the time, "I'm not ready to leave Vegas yet and I just really, really love this show and this city.
"When it came down to me really having to make this decision, I just couldn't imagine ending my residency at the end of this year."