Britney's Working On "Artsy Fartsy" New Album And Wants Katy Perry On It!
11 September 2014, 10:10 | Updated: 11 September 2014, 10:35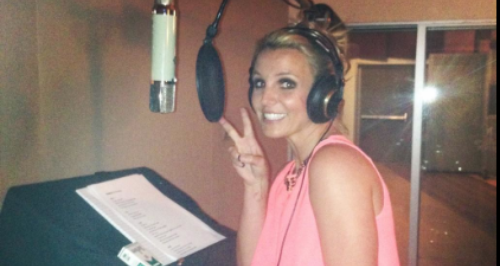 It's safe to say Britney is working on a sound we have never heard from her before as she hits the studio for album NINE!
Britney Spears fans prepare to get VERY excited – The lady herself is officially back in the studio working on album NINE!
Britney recently teased a snap of her in the recording studio captioned "Studio today! Yay!" which sparked the speculation that her new album may be on it's way - and now Britters has confirmed it!
Britney revealed that her next offering may have a VERY different sound to what we are used to from the pop princess…
She told Extra TV, "It's in the works. I want to do something very artsy fartsy - something that I've never done before." Sounds, erm, different...
She explained, "Even if it's just take a left lane and go for a little bit of rock or rock-pop. Just do something that's kind of out there and different."
And who would Britney's dream artists be to collaborate with on new music? Ms Spears revealed, "I love Katy Perry - I'd love to do something with her. Or Iggy [Azalea] - that would be cool." Either of those would be AHmayzing!
Britney's next record will be the NINTH studio album from the original princess of pop, and will come as a follow up to 'Britney Jean', which was released in December 2013.
Britney must be foregoing some serious sleep time to be able to make it into the studio amongst her already hectic working schedule – she's eight months in to her two-year residency at Planet Hollywood in Las Vegas and has just launched her own lingerie line. Oh, and she's also got SIXTEEN perfumes to her name. Phew!
Hands up who's excited for the prospect of a new Britney album?!
You May Also Like: