Nothing To See Here, It's Just ACTUAL BEYONCE And Jay Z Crashing A Wedding.
9 September 2014, 10:08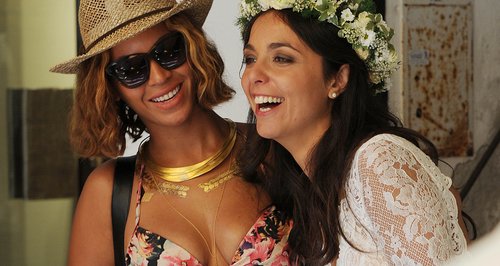 One baffled bride got the surprise of her life when Beyonce accidentally crashed their Italian wedding.
Your wedding day is meant to be the most special day of your life, but for one bride it was even more amazing – her wedding ceremony was accidentally gatecrashed by Beyonce and Jay Z!
Bey and Jay were on holiday in Portofino in Italy on Saturday when they decided to visit a local church – where there just happened to be a wedding taking place.
Thankfully, it seems the happy couple are Beyonce fans – and Beyonce even posed for a few extra special wedding snaps with the newlyweds.
While Beyonce's wedding attire – a bikini top and cowboy hat – is a bit unconventional, when it's actual Beyonce it's TOTALLY acceptable.
And while most brides would worry about being upstaged on their wedding day, this lady looked pretty happy to be sharing the limelight with Queen Bey!
Following on from their wedding crashing antics, Mr and Mrs Carter carried on their trip on the French Riviera yesterday, wgere they have been staying on a yacht off the coast of France.
Their joint 'On The Run' tour finishes in Paris next week, so the pair are getting some much needed rest and relaxation in ahead of their last shows.
You May Also Like…