Want Vegan Food Delivered To Your Door By Beyonce? That's Queen Bey's Big Announcement
8 June 2015, 16:34
Beyonce's Diet Secrets Revealed - GMA Feature
03:54
Queen Bey is branching out from the music business… into her own vegan food delivery service. Yes, really!
Can you imagine having delicious fresh vegan food delivered to your door? Now imagine that it's been delivered by Beyonce herself? Well, that could very well happen fairly soon…
…Ok, so we doubt Queen Bey will be driving the truck to your house herself, but Mrs Carter is branching out and starting her own vegan food delivery service. No, you did read that right.
However, in true Beyonce fashion, she teased a BIG ANNOUNCEMENT on Good Morning America this morning, getting fans into a frenzy on Twitter thinking it might be a new album or single… but it was the vegan food thing instead.
Fans were a little underwhelmed when they realised the Good Morning America announcement was about the diet that made her more "flawless" - especially as the news was revealed back in February. Don't do this to us, Bey!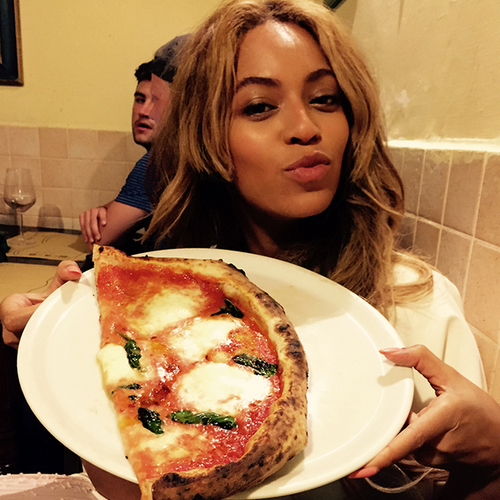 Beyonce teamed up with her trainer, Marco Borges, to start 22 Days Nutrition which delivers healthy, plant-based vegan meals to customers doors, with meals ranging from £6.50 to £11 each.
Bey's meal delivery service will only use organic ingredients which are gluten, soy and dairy free. Bey first tried the 22 Day Nutrition plan with Jay Z in 2013, and she says, "It takes 21 days to break a habit and on the 22nd day you are well on your way to forming new habits. I am so grateful that I took the challenge and credit Marco with leading by example."
"He is the most energetic person I know and it's all because of his decision to live a healthy lifestyle. He came up with a great programme to get people motivated to make better nutritional choices. All you have to do is try. If I can do it, anyone can. I am excited to partner with him."
However, the fans were not best pleased at getting up at the crack of dawn to be told some news they kinda already knew, but it DID spawn a wealth of hilarious memes:
Beyoncé's announcement is that she's vegan? pic.twitter.com/8K2QgF4o4g

— W.E.B.B.I.E DuBois (@fivefifths) June 8, 2015
The Hive leaving for work after that Beyoncé "announcement" pic.twitter.com/Brdcckv4z3

— Brian McLight (@itsallDonn) June 8, 2015
Beyoncé: I have an announcement Hive: OMFG A TOUR???? ALBUM?????? Beyoncé: Y'all fat lol

— mer. (@theonewithbey) June 8, 2015
Beyoncé: i have an announcement Beyoncé: I'm on a vegan diet and I'm sharing it with everyone!!! Me: https://t.co/PVmK1KR0SZ

— Paul not Revere (@PaulTheLamp) June 8, 2015
'I love vegan food, said Beyoncé. It makes me ***Flawless, she continued.' pic.twitter.com/PPzt3miPbn

— all things meat news (@KillioussBey) June 8, 2015
The scheme is launching in the USA but may possibly come to the UK in the future. We'd definitely pay extra if there was a chance of meeting Beyonce alongside your meal - but next time you have an announcement, please let it be new music, Bey!