10 Accidentally Vegan Junk Foods Beyoncé Can Still Scoff On Her New Coachella Diet
5 April 2018, 16:43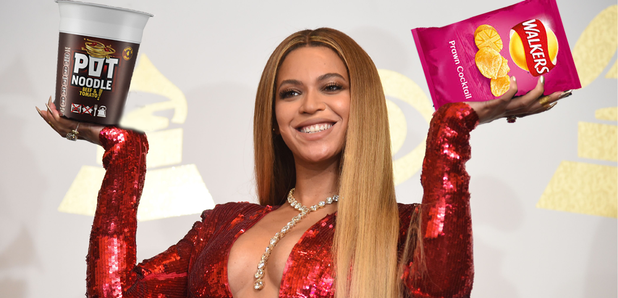 As Beyoncé embarks on her new vegan diet ahead of her highly anticipated headline slot at Coachella, we take a look at 10 accidentally vegan tasty treats that she can still enjoy!
With veganism becoming more and more popular, plenty of people are taking meat and dairy out of their diet and the latest star to embrace it is Beyoncé.
Ahead of her massive headline set at Coachella this April, Bey is reportedly on a vegan diet to make sure she's in perfect shape for her performance and is apparently eating six vegan meals a day prepared by her own private chef.
> This Is Why Beyonce "Draws The Line" When It Comes To The Twins

But whilst many people think a vegan diet consists solely of salads all day, there are actually a surprising number of snack foods which most people tuck into on a regular basis that are accidentally vegan. So here's a list of 10 things Bey can still treat herself to on her new diet...
1. Party Rings
*screeching* I am living my best adult life because there are now PARTY RINGS IN SHARE BAGS (which I obviously will not share - probably) pic.twitter.com/dfZXhZh6qL

— Fran Dorricott (@franwritesstuff) March 26, 2018
Yep, they're 100% vegan.
2. Beef & Tomato Pot Noodle
Mum sends me to the shop to get whatever I want for dinner- come back with a super healthy and nutritious beef and tomato pot noodle pic.twitter.com/TEcKQnTcNY

— Brianna (@AndPhotographyB) February 21, 2017
Wonder what that 'beef' is then?
3. Oreos
Oreo Oreo Oreo Oreo Oreo pic.twitter.com/EakRmh9tpF

— Neidy (@NeidyCast) March 25, 2018
No dairy to be found in these bad boys!
4. Skittles
Skittles
They are amazing
Buy them
Sponsor me pic.twitter.com/tRLTtUJ32X

— Tsubasa (@Brave_Tsubasa) March 29, 2018
Wonder which colour is Bey's fave?
5. Bourbon Biscuits
Love these bourbons #biscuits #yummy pic.twitter.com/GsImdKxkQL

— Michaela Holmes (@Holmes2219) February 6, 2017
Although if Bey has just one of these she'll end up eating 4341 tbh, like we do.
6. Walkers Prawn Cocktail Crisps
But they're PRAWN cocktail!?
7. Mcvities Choc Chip Hobnobs
There's structural issues with your choc chip Hob Nobs @McVities there's biscuit in my brew!!!! pic.twitter.com/SYTqXXc2GT

— swatts_up (@SWatts_Up) April 3, 2015
Say what!?
8. Ritz Crackers
Buy @Ritzcrackers pic.twitter.com/d4CCRIK80y

— Xd (@camdens_a) March 9, 2018
Surely these are a must on anyone's rider?
9. Swedish Fish
I love Swedish fish too! :D @RomanAtwood @_little_britt_ pic.twitter.com/eJ2uGAinGs

— Brandon Kirk (@Stormguy5297) November 12, 2017
Addictive and vegan. Lucky Bey!
10. Freddo Drinking Chocolate
Fab for those cold winter days, warm up with Cadburys Freddo drinking chocolate @galactosaemia #dairyfree #lowgalactose #gsg pic.twitter.com/0iezu0xwcs

— Karen Ford (@karenGSG) December 5, 2016
We can 100% see Beyoncé, JAY Z and Blue Ivy chilling out with a nice mug of Freddo hot chocolate after a big show.
> Download Our Fancy New App For All The Latest Beyoncé News!
Whilst you're here, check out this amazing busker performing Bey's 'Halo' on the streets of London...