Beyonce's 'The Mrs. Carter Show' Ends: 12 Fan Tweets In Tribute To Her World Tour
28 March 2014, 13:38 | Updated: 31 March 2014, 09:25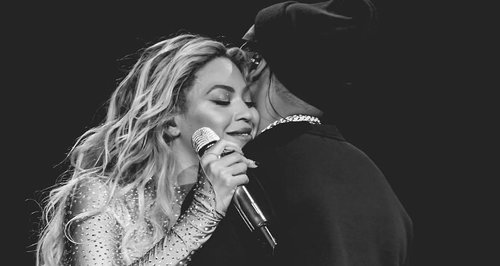 The 'XO' star's fans have taken to Twitter to thank Beyonce for all of the memories from her year-long tour.
Beyonce's mammoth world tour 'The Mrs. Carter Show' was brought to an incredible close this week, after an amazing 132 shows over the past year.
Since launching back in April last year the tour has travelled across North America, South America, Australia, New Zealand and even two legs in Europe, as well as being revamped in the wake of her launching self-titled album 'Beyonce' in December.
The US star finally ended the lengthy tour with an emotional show in Portugal this week (27th March), where she made a teary speech to fans thanking them for all of their support.
To mark the end of 'The Mrs. Carter Show' see what memories and pictures Beyonce's fans have been sharing across Twitter this week...
1. One member of the #BeyHive shares a truly emotional moment from his tour experience
@CapitalOfficial @Beyonce everything. but this has to top it all.. her holding my hand and singing to me pic.twitter.com/Smw9sIKDtr

— John Lewis (@_johnlewis) March 28, 2014
2. This Beyonce fan managed to see her latest tour five whole times! #SuperFan
Can't believe the tour has come to an end.. Thank you Beyonce for this amazing tour and the wonderful 5 nights I was able to witness

— Diede (@BaddieDie) March 28, 2014
3. Was Portugal the greatest night on 'The Mrs. Carter Show' tour? What do you think?
I feel really honor that Beyonce decided to end the tour in Portugal! It was the best concert of the 132 shows!

— BeyH(IV)e Members (@BeyHiveMember) March 28, 2014
4. This fan knows what's what... there's always more to come from Beyonce! #Preach
The tour is over but there's a lot more to come from Beyoncé this ain't the end, maybe album this year, have baby then tour next year

— Misha! (@QueenBKC_81) March 28, 2014
5. Good question Twitter user @_YoungTrev. Good question.
The tour is over, what's next? @Beyonce

— Cake Like Lady Gaga (@_YoungTrev) March 28, 2014
6. Pretty sure Queen Bey DEFINITELY deserves a holiday after a year on the road
Can you imagine the holiday Beyonce is going to have now that her tour is over? We can only dream

— Sarah Powell (@smpowell) March 28, 2014
7. We couldn't greet more with this fan tweet
@Beyonce thank you bey for giving us YOU and your time and talent.. And hopefully planning your next tour.. secretly wishing for more**

— Dutchess of BeyHive (@Beyoncerulesify) March 28, 2014
8. Sounds like Beyonce wasn't the ONLY one left in tears after her last show
Beyonce finished her tour tonight I feel like crying all over again thinking about it! #MrsCarterShow #queenb pic.twitter.com/ATEYhRRTtf

— Claragh Connor (@Claragh_Connor) March 27, 2014
9. One member of the #BeyHive shares their love for Mrs. Carter
@Beyonce dear Bey, I saw u twice Mrs Carter show and was the best nights if my life, can't wait till your next tour.. I love you, thank you!

— Dutchess of BeyHive (@Beyoncerulesify) March 28, 2014
10. The end of this tweet is just as amazing as the start
Beyoncé crying at the last show of her Mrs. Carter Tour just made me cry. God, I need sleep

— Amy Mitchell (@AMitchellManc) March 28, 2014
11. Think we can ALL agree the past twelve months have been incredible for Bey
Thank you for the great tour, @Beyonce! It has been a great year with so many emotions and experiences...We love YOU! <3

— Yoncé (@ItsGizeem) March 28, 2014
12. And now it's all over! But don't worry #BeyHive... we're sure she's got something up her sleeve
I just cried my eyes out watching Beyoncé talk during her last tour show in Lisbon tonight. Wow. Such a humble and beautiful spirit.

— VON TAE' (@ItsVonTae) March 28, 2014
#CapitalMixtape - Exclusive Beyoncé Mix by Capital Fm on Mixcloud