Beyonce New Album Tracklisting Reveals Rihanna, Jay-Z And Lady Gaga Collaborations?
7 March 2013, 08:00 | Updated: 7 March 2013, 09:20
The 'Crazy In Love' star's fifth record will also be called 'Mrs. Carter' according to a leaked image posted online.
Beyonce's highly anticipated new fifth album is rumoured to feature a collaboration with Bajan star Rihanna after a tracklisting for the record reportedly leaked online last night.
The 'Crazy In Love' star had previously confirmed a team-up with Justin Timberlake, which is also named in the list of tracks, with Jay-Z, Lady Gaga and her sister Solange also said to be confirmed team-ups.
Sia, Ne-Yo and Azealia Banks are also said to be collaborations featured on the new album, which is also set to be called 'Mrs. Carter'.
The tracklisting was handwritten on a notepad and "accidentally" posted online from Stargate – who were in the same studio where the 'Love On Top' star had been recording.
The picture was picked up by fansites of the Destiny's Child singer, which you can check out below: (Picture: BeyonceJournal)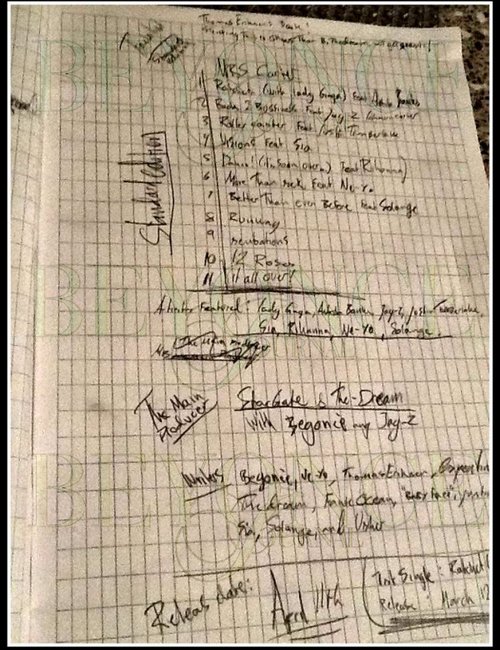 Check out the full rumoured tracklisting for Beyonce's new album below:
1. 'Ratchet' (feat Lady Gaga & Azealia Banks)
2. 'Back 2 Business' (feat Jay-Z)
3. 'Roller Coaster' (feat Justin Timberlake)
4. 'Visions' (feat Sia)
5 'Dance' (It's Soon Over) (feat Rihanna)
6. 'More Than Sex' (feat Ne-Yo)
7. 'Better Than Ever Before' (feat Solange Knowles)
8. 'Runaway'
9. 'Sensations'
10. '12 Roses'
11. 'It's All Over'
the album is also said to be penned in for a 11th April release – to tie in with her new 'Mrs. Carter Show' world tour.
The outing will include six nights at London's O2 Arena.