Everyone's Freaking Out About How Much JAY Z & Beyoncé Tickets Cost
23 March 2018, 11:03 | Updated: 23 March 2018, 11:18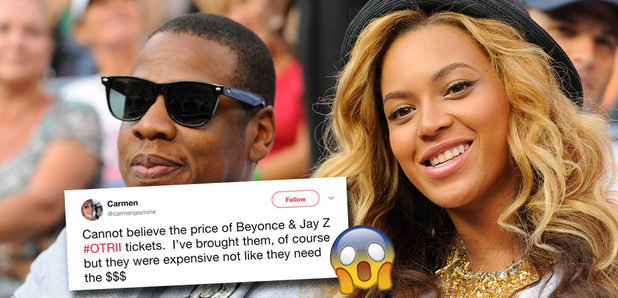 If you managed to get 'On The Run II Tour' tickets, your bank account is gonna be looking in a bad way today!
Every now and again a live music tour comes around that you undoubtedly have to be at. JAY Z & Beyoncé joining forces for their joint 'On The Run II Tour' is without a doubt one of those moments.
Whilst some people will do anything to be there, others have been losing the plot at just how much tickets are going for and it sent Twitter into a bit of a meltdown.
> Is Jay Z On Beyoncé's New Album? Everything We Know So Far Inc. Release Date, Tracklist & More
Whilst the lowest price for tickets at the pair's London Stadium show were going for £25 (who actually managed to grab any of them?), the highest were £160 per person. But then there were VIP tickets and they were going for £210 - £415 per ticket.
https://live.line.me/channels/2363759/broadcast/7731406
Me visiting my friends new house after they spent their old houses rent on Beyoncé tickets which was still only half the ticket price pic.twitter.com/KvE0mK13Rj

— Israel (@coupdebop) March 14, 2018
My bank account really isnt happy with the price of Beyonce& Jay Z tickets

— Yasmin (@RemblanceYasmin) March 23, 2018
Ppl were in the virtual queue from 8am I logged in at 9am and had 4 tickets at 9:13am . I released them again though coz the price was crazy to me. Especially for where we would have been in the stadium. Love them but my money means more!!! #OTRII #beyonce #jayz pic.twitter.com/92Aqc2yESV

— ChezG (@XchezaliciousX) March 23, 2018
Deffo got my Beyoncé ticket it was by forceeeeee but no one should ask me how much it cost please

— Len (@TheOnlyLeoniee) March 23, 2018
Me being evicted after spending rent money on #OTRII tickets to see Beyoncé and Jay Z perform the same routines they've performed for the last decade. pic.twitter.com/X39XEGvoip

— Alex (@AlexWJSimpson) March 13, 2018
If you managed to get your hands on tickets then congrats to you, but if you didn't you can always win some by keeping it Capital this weekend!

> Download Our Fancy New App & Keep Listening To Get Your Hands On JAY Z & Beyoncé Tickets!

Whilst you're here, check out Beyoncé and Jay Z filming something new in Jamaica recently...