Beyonce Surprised By Jay-Z On Tour With A Hug And A Kiss On Stage - Video
27 July 2013, 09:06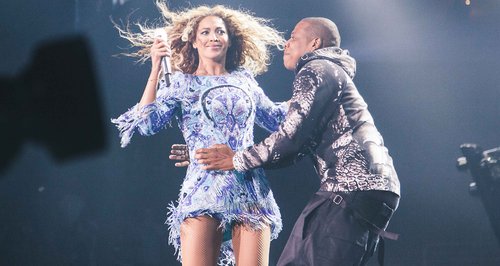 The 'Love On Top' singer looked bewildered after her husband ran on stage during a song to give her a quick kiss.
Beyonce got quite the surprise during her world tour show in Philadelphia this week when husband Jay-Z ran out on stage to give her a quick kiss and hug.
The 'Love On Top' singer looked completely shocked when she turned around mid-performance at the Wells Fargo Center on Thursday (25th July) to have the '99 Problems' rapper suddenly appear for a surprise PDA.
Beyonce is currently taking her 'The Mrs. Carter Show' world tour across North America, and both the audience and her backing dancers roared with approval at getting to witness the rare intimate moment between the 'Countdown' singer and her man.
Jay-Z himself is also in the middle of a tour after kicking off the 'Legends of The Summer' tour with Justin Timberlake earlier this month.
Check out a picture of Beyonce and Jay-Z kissing on stage at the show below (Credit: IAmBeyonce.com):
Beyonce is currently working on her fifth studio album expected for release before the end of the year.
Watch Jay-Z surprising Beyonce on stage in a fan-shot video below: