Beyonce And Jay-Z All Smiles As They Attend Book Launch In New York
9 May 2012, 11:45
The couple make a joint public appearance together to support their author friend.
Beyonce and Jay-Z were all smiles as they attended a book launch together in New York last night (8th May).

The new parents left baby Blue Ivy Carter at home for a night to join guests at friend Erica Reid's book launch for The Thriving Child.

Jay-Z wore a casual denim jacket and t-shirt for the outing, while Bey showcased her incredible post-baby figure in a figure-hugging teal dress.

The pair looked very much in love as Jay-Z tenderly cupped Bey's face as they spoke to other guests.

Check out a photo of Beyonce and Jay-Z at the launch of The Thriving Child: Parenting Successfully through Allergies, Asthma and Other Common Challenges (picture: PA):


Earlier this week, the 'Countdown' star said hard work had helped her get back into shape following Blue Ivy's birth in January.

"I haven't had much time in the gym [since the baby was born]. I've been rehearsing, I have a show coming up and it's my first show in a year," she said.

Bey also revealed during the interview with ET that she was hoping to have more children.

"I definitely want to have more," she said. "I don't know how many. God knows; I dont know yet."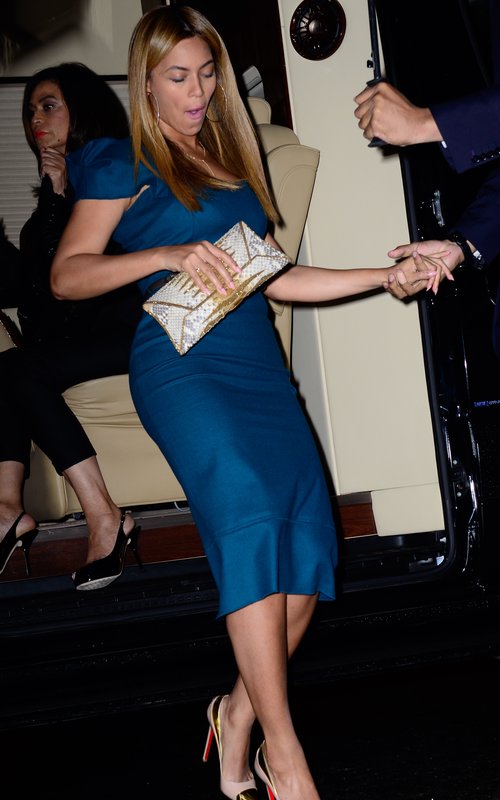 Mary J Blige also joined Bey and Jay at the launch of Reid's new book, which tells her story of dealing with children who suffer from common allergies.

Meanwhile, Beyonce is due to return to the stage this month for the first time since giving birth.