Beyonce Shows Support To Gay Marriage Changing Lyrics To 'Single Ladies'
28 March 2013, 10:31 | Updated: 28 March 2013, 10:35
The 'Crazy In Love' star posts a message on her Tumblr account as protesters clash in the US.
Beyonce is among the latest celebrity stars to show her support to gay marriage in the US by posting a special message on her official Tumblr account.
The 'Love On Top' star altered the lyrics to her famous smash hit 'Single Ladies' as she rallied behind helping support same sex marriage.
"If you like it you should be able to put a ring on it," she wrote in the post.
She then also added the sign off: "# we will unite 4 marriage equality! B"
The singer's comments come as protesters clashed outside the Supreme Court in Washington this week over a ruling in California.
The female star's husband Jay-Z has also been a keen supporter and told CNN reporters that it is holding America back.
Check out a picture of Beyonce's handwritten message below: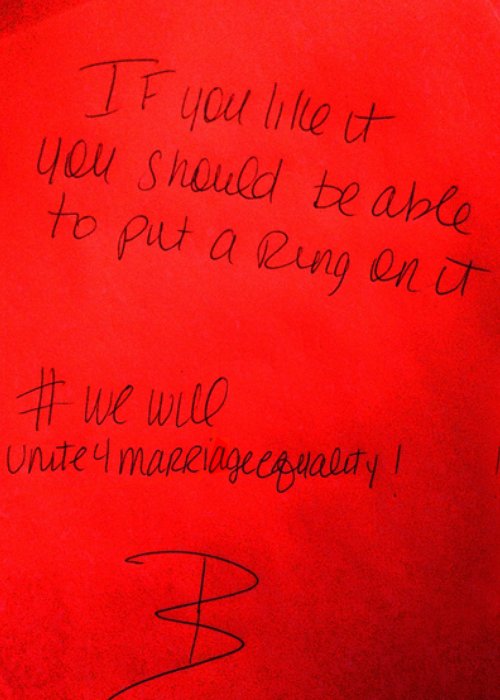 "I've always thought it as something that was still holding the country back," he declared. "What people do in their own homes is their business and you can choose to love whoever you love.
"That's their business. It's no different than discriminating against blacks. It's discrimination, plain and simple."
Meanwhile, Beyonce's father has been recently speaking out about parting company with the singer as he manager back in 2011.
He said it was an "incredibly painful" decision but one that was mutual despite previous reports.