Will Destiny's Child Launch A FULL Reunion Tour And Album... Under A New Name?
7 April 2015, 11:23
Beyonce, Kelly Rowland and Michelle Williams perform together at Stellar Gospel Music Awards
02:27
After their surprise performance it looks like Beyonce, Kelly & Michelle could be back again.
Could a whole NEW tour and album be on the way from Beyonce, Kelly & Michelle, but under a DIFFERENT name to Destiny's Child?
Following their surprise performance last week at the Stellar Gospel Awards, where they were introduced by their individual names rather than their band name, rumour has it there could be plenty more in the works for this trio.
The claims suggest a ten-year Destiny's Child reunion tour and record could be on the way, although complications with Beyonce's father Mathew Knowles could mean they return without the name Destiny's Child. *GASPS*
"Although Destiny's Child is made up of the three ladies, Beyonce's father and former manager Mathew Knowles owns one-fourth of the group as well," a source told Mail Online this week. "Anytime they do anything under the name of Destiny's Child, he has involvement in it and money from it.
"They all want more than anything to give the fans one last run of the group, especially since they all have their own individual success, but don't want to deal with [him]."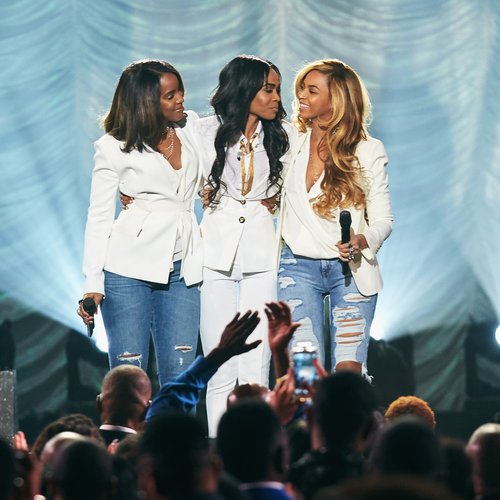 The last time Destiny's Child properly toured together was on the 'Destiny Fulfulled' tour back in 2005, although they reunited to sing together during Beyonce's Super Bowl show in 2013.
Beyonce Knowles, Kelly Rowland and Michelle Williams gave the crowds a VERY pleasant surprise at the Stellar Gospel Awards last week when they came out together to perform Michelle's song 'Say Yes'.
The performance was to commemorate Michelle's first award at the Stellar Music Awards, and her former band members came along to support her and make sure her performance stood out from the rest.
Michelle, who has been releasing her own music outside of the band, tweeted about her excitement at winning an award, "Wow! I won my FIRST Stellar Award tonight! We won for Video Music of The Year directed by @MatthewACherry for the song #SAYYES! ThankYouGod!"
'Say Yes' appears on Michelle's 2014 album 'Journey To Freedom' and features guest vocals from Kelly and Beyonce.
You May Also Like: