All Hail Queen Bey! Beyonce Tops The Forbes Celebrity 100 List, Earning $115Million!
1 July 2014, 10:30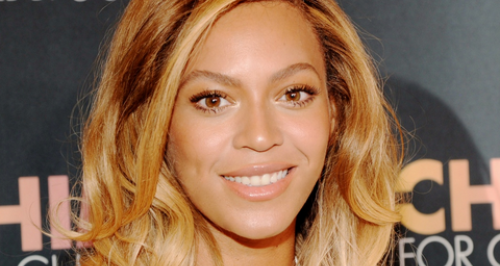 Hey Beyonce, can you lend us a tenner? Queen Bey has topped the Forbes Celebrity 100 list – and raked in a pretty nice lot of earnings last year too!
We all know Beyonce is a force to be reckoned with, and Queen Bey is definitely reigning supreme – she's topped the Forbes Celebrity 100 list, beating Rihanna, Katy Perry and even her own husband, Jay Z!
Jay Z ranks at number six on the list, making them the most powerful celebrity couple on the list, which rates celebrities earnings, success and influence against each other.
Beyonce's win comes as she reportedly earned $115million between June 2013 and June 2014, in a year that saw her perform in 95 concerts (for which she earned an incredible average of $2.4 million each – wow!) as well as releasing her surprise fifth album and her brand endorsements with Pepsi and H&M, her own fragrance and her House of Dereon clothing range.
Bey's other half, Jay Z, who's currently on tour with her on their joint 'On The Run' tour earned $60 million in the past year from his latest album, live shows and his Roc Nation record label.
The highest earner on the list by FAR came in third place, with a whopping $620 million banked in the last year. Yep, it's Dr Dre, who sold Beats by Dre to Apple for a HUGE $3 billion – a pretty nice earner, we think!
The full list is:
1. Beyonce
2. LeBron James
3. Dr Dre
4. Oprah Winfrey
5. Ellen DeGeneres
6. Jay Z
7. Floyd Mayweather Jr
8. Rihanna
9. Katy Perry
10. Robert Downey Jr
11. Steven Spielberg
12. Jennifer Lawrence
13. Bon Jovi (Tie)
13. Bruno Mars (Tie)
15. Kobe Bryant
16. Roger Federer
17. Miley Cyrus
18. Taylor Swift
19. Lady Gaga
20. Kanye West
21. Tiger Woods
22. Calvin Harris
23. Dwayne Johnson
24. Rafael Nadal
25. Bruce Springsteen
26. Justin Timberlake
27. The Eagles
28. One Direction
29. Paul McCartney
30. Cristiano Ronaldo
31. Sean 'Diddy' Combs (Tie)
31. Ryan Seacrest (Tie)
33. Justin Bieber (Tie)
33. Jennifer Lopez (Tie)
33. Kevin Durant (Tie)
36. Sandra Bullock
37. James Patterson
38. Pharrell Williams
39. Glenn Beck
40. Peyton Manning
41. Mark Burnett
42. Simon Cowell
43. Novak Djokovic
44. Phil Mickelson
45. Lionel Messi (Tie)
45. Jimmy Fallon (Tie)
47. Avicii
48. Bradley Cooper (Tie)
48. Peter Jackson (Tie)
50. Michael Bay
51. Toby Keith
52. Leonardo DiCaprio (Tie)
52. Matthew McConaughey (Tie)
54. Sofia Vergara
55. Dwayne Wade
56. Gisele Bunchen (Tie)
56. Tyler Perry
58. Gordon Ramsey
59. Rush Limbaugh
60. Jon Stewart (Tie)
60. Mark Wahlberg (Tie)
62. Howard Stern
63. Hugh Jackman (Tie)
63. Ashton Kutcher (Tie)
63. Maria Sharapova (Tie)
66. Vin Diesel
67. Ben Affleck
68. Joss Whedon
69. Serena Williams
70. Kenny Chesney
71. J.J. Abrams
72. Neil Patrick Harris
73. Angelina Jolie
74. Kevin Spacey
75. Will Smith
76. Scarlett Johansson
77. Jennifer Aniston
78. Dan Brown
79. John Green
80. Kim Kardashian
81. Amy Adams
82. Stephen King
83. Dr Phil McGraw
84. J. K. Rowling
85. Li Na
86. Sean Hannity (Tie)
86. Seth MacFarlane (Tie)
88. Bryan Cranston
89. Jon Hamm (Tie)
89. Gwyneth Paltrow (Tie)
91. Kate Moss
92. Meryl Streep
93. Kerry Washington
94. Kate Upton
95. Veronica Roth
96. Zooey Deschanel
97. Cameron Diaz (Tie)
97. Lena Dunham (Tie)
99. Kaley Cuoco
100. Natalie Portman