Beyonce Poses Backstage On Tour With Survivors Of Boston Marathon Bombings
24 July 2013, 11:04
The 'Love On Top' singer invited some of the individuals who were involved in the tragic events earlier this year.
Beyonce was pictured with some of the survivors of this year's Boston marathon bombings after inviting them backstage following her show in the city.
The 'Crazy In Love' star was performing at the TD Garden last night and brought Fans Mery Daniel, Adrianne Haslet and Heather Abbott to meet her.
All three ladies lost one of their legs during the horrific attacks, which shocked the world back in April.
Beyonce also paid tribute to Trayvon Martin during her gig in Nashville earlier this month.
The star's 'The Mrs. Carter Show' world tour continues tomorrow evening at the Wells Fargo Center in Philadelphia.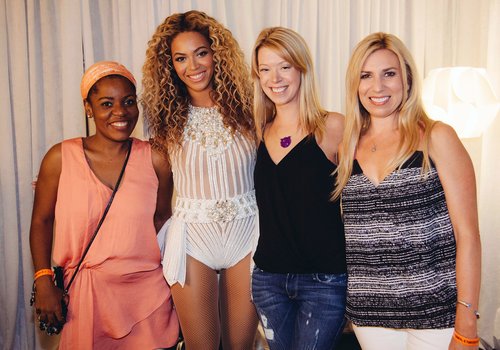 This week also saw the singer get her hair caught in a fan during a performance of the song 'Halo'.
Beyonce poked fun at the incident herself on her Tumblr account by posting a lyric sheet with the words changed to the song.