Beyonce's Daughter Blue Ivy Dances Around During Tour Rehearsals, Reveals Choreographer
21 August 2013, 13:12
The man behind the moves on the singer's latest tour speaks about watching the family in action.
Beyonce's 'The Mrs. Carter Show' world tour choreographer Chris Grant has revealed the star's daughter Blue Ivy dances around during rehearsals.
Speaking to HollywoodLife.com, the man in charge of the moves on the outing said there is definite natural talent in the youngster.
"She's going to be very talented and take after one of them [Beyonce or Jay-Z]," he said. "Sometimes she's in the studio. She's enjoying what we're doing.
"When you are around something so much and it's in your parents you might end up being into too. When she comes to rehearsal she is moving her head and dancing around."
He continued: "She really is adorable, we love when she is in rehearsal because she eases up everything."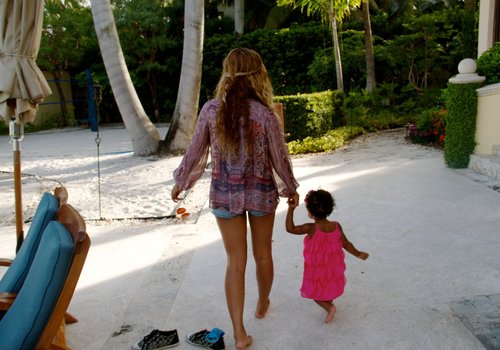 The choreographer also said it's wonderful to see the Destiny's Child singer in action as a mother because it shows a completely different side to her on stage persona.
"Seeing Beyonce as a mom is so precious, so normal," he continued. "People always see her on stage but it's another thing seeing her in her element as a mom, she's the sweetest person and the best mother.
Beyonce was recently back in the UK to headline the V Festival 2013 and continues her 'The Mrs. Carter Show' world tour next month across Latin America.