Someone Actually Bit Beyoncé On The Face At A Party
26 March 2018, 16:52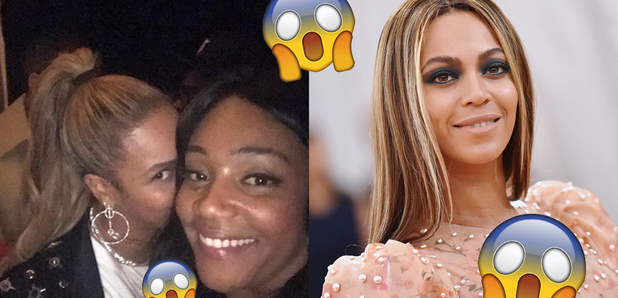 Yes, really. Tiffany Haddish has spilt some major tea about what went down with Beyoncé and a mystery woman at a recent party, and it is super weird.
WT actual F?!
It is well known that everything Bey and JAY Z get up to is kept super private and only those invited to the same exclusive parties get an insight into their lives. The two keep an incredibly clean public perception so to hear a crazy as story as this one is truly rare AND HAVE WE MENTIONED, TOTALLY MENTAL?!
In an interview with GQ, American actress and comedian Tiffany Haddish has disclosed the full and insane story of meeting Beyoncé for the first time at a party where another woman ''was just doing the mostest'' and ended up biting Beyoncé on her face.
A While back Tiffany Haddish let slip that Beyoncé was extremely hostile toward an unnamed actress who was flirting with JAY Z and putting her hand on his chest. It turns out, that isn't the tip of the iceberg of what this woman got up to that evening.
She has now told the tale in its entirety and says that after being bitten, she briefly escaped to a back room but soon returned to the bash. Beyoncé told Tiffany she had indeed been bitten and said about the actress responsible ''the b*** is on drugs, she's not even drunk.''
Tiffany offered to ''beat her ass'' but B told her not to, but to enjoy the party instead. Handled like a boss.
We have SO many questions. Who was the person that dared lay a finger on Queen Bey, let alone chomp down on her ACTUAL FACE?! She wasn't happy with Tiffany's initial gossiping, so how is she going to react now the whole world knows she was partially eaten?!
Tiffany hasn't been one to shy away from spilling the tea so we're hoping the identity of the biter comes to light one day.
You'll Want Our App To Stay Up To Date With The Craziest Beyoncé News
Watch Beyoncé and JAY Z film new videos in Jamaica!