Beyonce Apologises For Cancelling Antwerp Tour Show: "I'm Sorry If I Disappointed You"
15 May 2013, 10:20
The 'Love On Top' singer says she's back feeling fighting fit and ready for her gig in Belgium tonight.
Beyonce has issued a written apology to her fans for cancelling her show in Antwerp, Belgium last night (14th May).
The 'Crazy In Love' singer took to her official Tumblr account to post a hand-written note to her followers and said she was "sorry if I disappointed you".
"I've never postponed a show in my life. It was very hard for me," read the note. "I promise I will make it up very soon. I'm sorry if I disappointed you."
The gig was called off under doctor's orders after the singer was said to be suffering from "exhaustion" and "dehydration".
Check out the written apology from Beyonce posted on her Tumblr page below: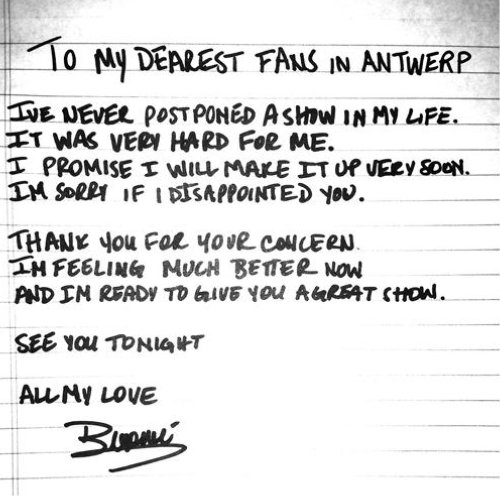 The Destiny's Child star has also informed her fans that her planned gig in the same venue tonight (15th May) will go ahead.
"Thank you for your concern. I'm feeling much better now and I'm ready to give you a great show. See you tonight. All my love, Beyonce," she finished her note.