Ariana Grande & Pete Davidson Throw Serious Shade At 'The Light Is Coming' Rapper
19 June 2018, 16:22
Ariana Grande wasn't happy with any of the rappers who'd laid down verses for her new song 'The Light Is Coming' and now her fiancé Pete Davidson has thrown some serious shade at them.
We're overly excited for Ariana Grande's new album 'Sweetener' to drop, especially since 'No Tears Left To Cry' was such a massive anthem, but it's her latest single 'The Light Is Coming' which has been getting all the attention lately.
The song features a guest verse from Nicki Minaj, but Ariana recently revealed that she'd auditioned 8 other rappers before turning to her good friend, and now her fiancé Pete Davidson has thrown some serious shade at the unnamed rappers.
> Ariana Grande And Pete Davidson Visited Harry Potter World In Matching Hogwarts Capes
Ariana took to Instagram and shared a video of Pete doing an impression of one of them and joking that they just didn't understand the nature of the song. Check out the full clip above!
It's not clear exactly who they comedian was mimicking, but given the fact that a nube rof big names including both Drake and Skepta were reportedly dropped from the track, it could end up upsetting someone.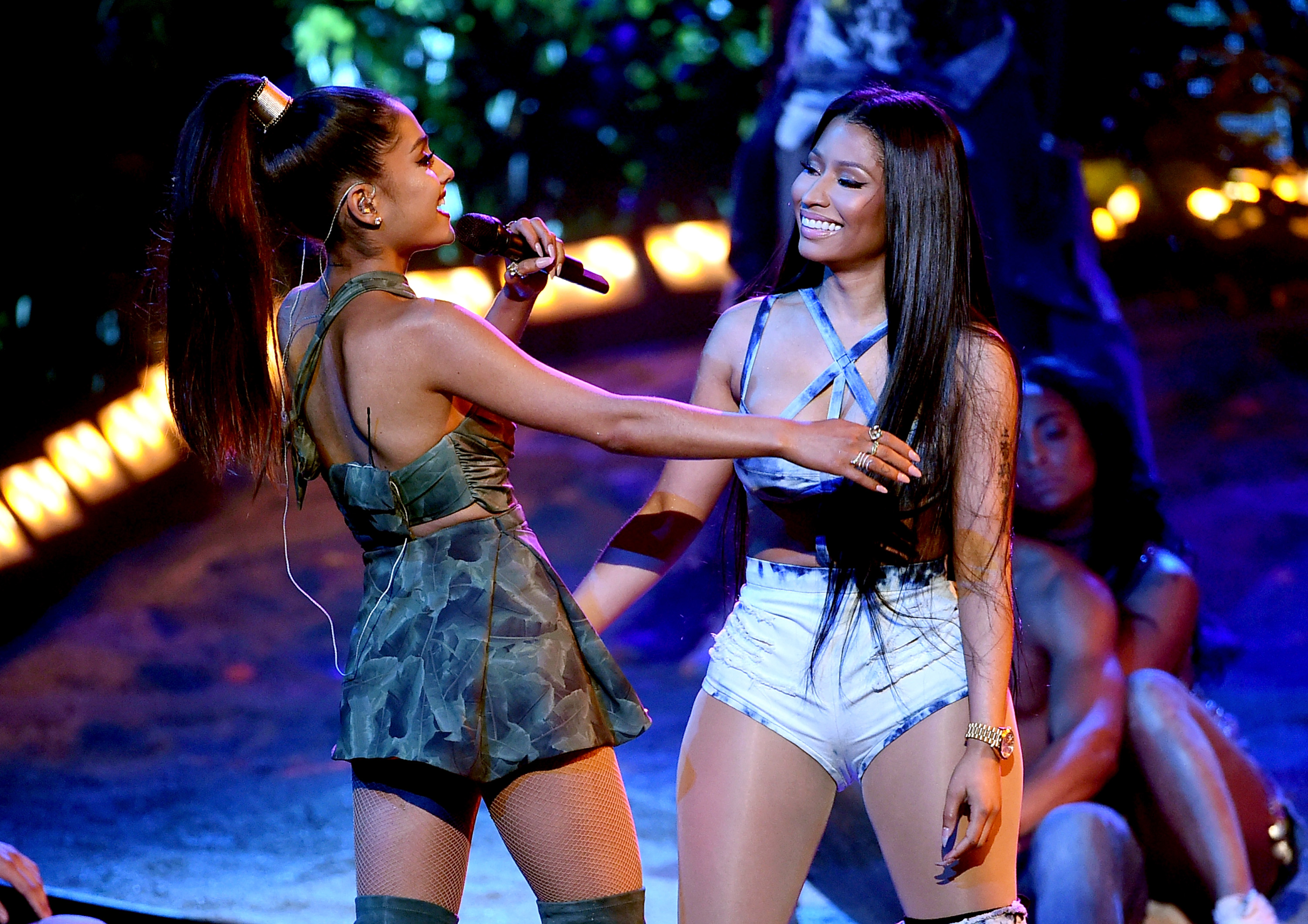 Pic: Getty
In a previous interview with Fader, Ariana explained, "I don't mean to sound like a terrible person, but I wasn't in love with any of it" after confirming that there were eight big names who she decided not to inclide on the album track.
But revealing Nicki's reaction to her text message recruiting her for the song Ariana claims Nicki simply said, "'Ho-lee-s**t-I-love-this'."
She went on to add, "I went in my slippers and pajamas to the studio and she killed it. That's what Nicki Minaj does, she elevates a record. If you're going to have a rapper on a song, they need to really really really be there for a reason, and she does that every single time."
Whilst Ariana hasn't named the eight rappers who were cut from the song, fans are convinced one of them was Drake after he and Nicki both replied to an Instagram post Ariana shared recently.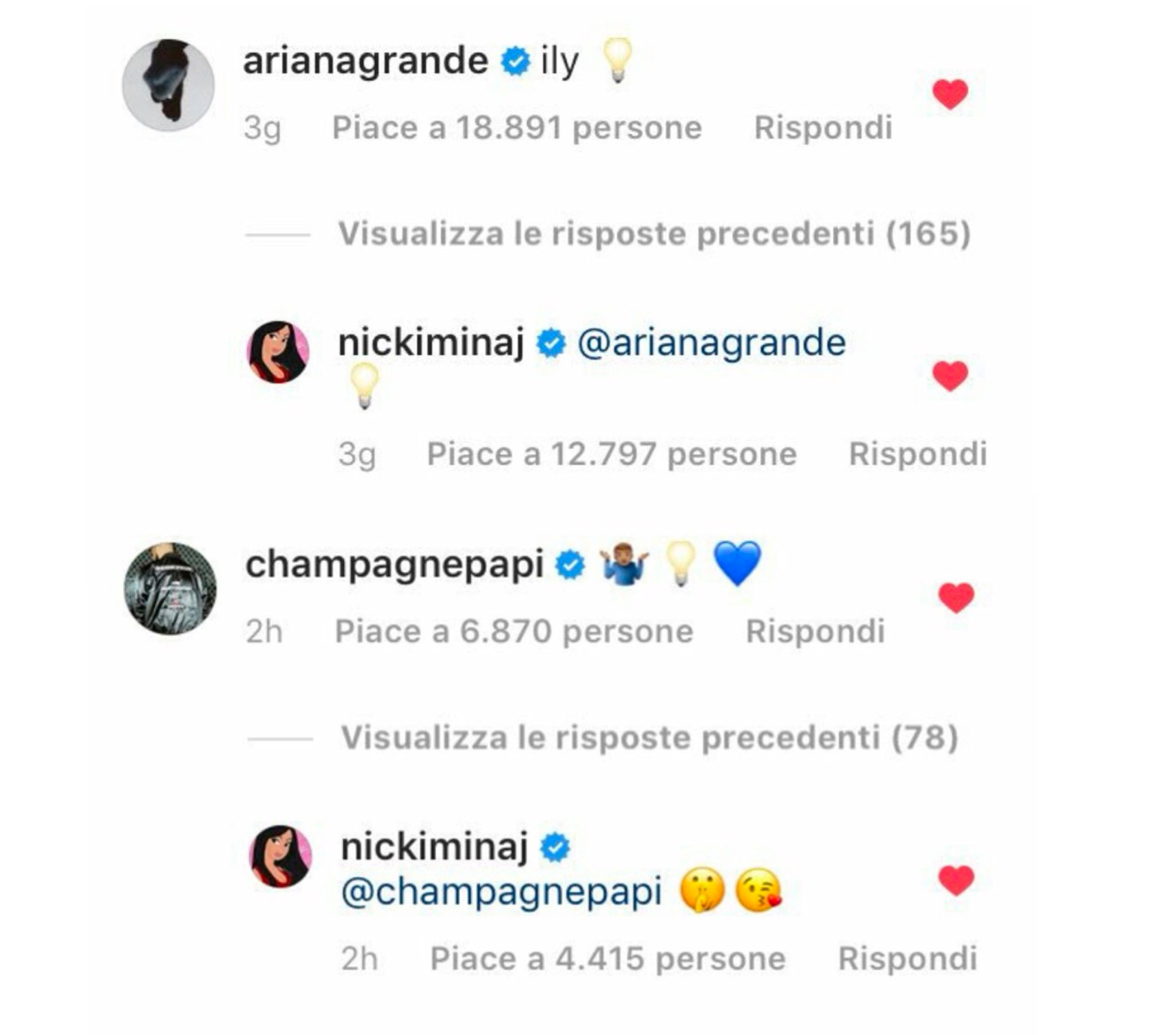 Pic: Instagram
Drake was potentially just jumping into the comments and messing around with the lightbulb emoji, but it started a lot of rumours that he'd be featuring alongside Nicki.
Ariana's mum appeared to shut those riumours down when she liked a post by one fan which stated that 'The Light Is Coming' is a collab between Ariana and Nicki!! NO ONE ELSE!...
DRAKE IS NOT on "The Light Is coming" Ariana's Mom @joangrande liked this tweet pic.twitter.com/SMvJTTsqJu

— Rafael (@iitsRafael) May 30, 2018
> Download Our Free App For Loads More Ariana Grande News!