Ariana Grande Promises New Song With Justin Bieber Will Be Released "At Some Point"
20 May 2014, 10:52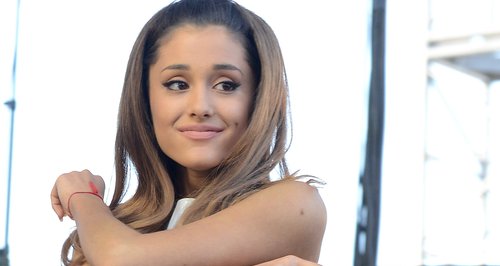 The 'Problem' singer says she can't wait for fans to finally hear their "chilled" team-up song.
Ariana Grande has promised fans her long-awaited song collaboration with Justin Bieber will be put out "at some point", and teased potentially just giving it away.
The 'Problem' singer, who performed live on stage with Iggy Azalea at the Billboard Music Awards 2014 over the weekend, opened up exclusively to Capital's Max about the track on her show last night (19th May).
"I don't know! it's hard because, I feel like, I love the song and it's amazing but we have to find the right time to put it out," Ariana explained, in her chat with Max. "Because I already hit the deadline for my album. We finished it later, so we're trying to get it to our fans because we know it's what they want, but I feel like it's too late to put it on my project.
"I'm kind of at a little bit of a dilemma," she continued. "But yeah, we're going to put it out at some point.
"I feel like I would love to just give it to them, because they've been waiting for it so long for it anyway, I don't want to make them wait any longer," Ariana added. I don't know, we're going to figure out a plan for it."
The US star also said she spoke briefly to Justin earlier this week and that he's "good" and doing OK right now.
"Yesterday, when Scooter was FaceTiming him in my trailer [I saw him]," she added. "I was trying to warm up and they were laughing really loud! So I guess he's good."
Ariana Grande releases her new song 'Problem' on 13th July.
You may also like...