Ariana Grande On Jessie J And Nicki Minaj: "They're Really Great Human Beings"
29 August 2014, 11:56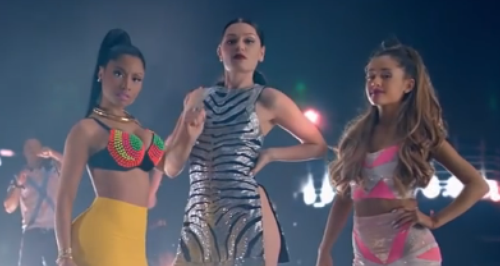 The 'Problem' star says she had so much fun filming 'Bang Bang' with the two pop divas.
Ariana Grande has been gushing about her team-up partners Jessie J and Nicki inaj, and has described the pair as "really great human beings".
And from the sounds of things the trio had an AMAZING time on the video shoot for their new single 'Bang Bang', as we caught up with Ariana this week.
Ariana Grande on filming 'Bang Bang' with Jessie J...
"Yes, of course [I'm a big Nicki Minaj fan], I've always been a big Jessie fan too!" Ariana exclusively told Capital's Max this week. "It was crazy to work with the two of them on this one song.
"Jessie's amazing, we had so much fun on the video shoot," the singer recalled. "I love that she's always singing, because so am I, so it was really fun, we both did a lot of singing together on the video shoot.
"She's a trooper, she's amazing, she's a diva and she's an incredible vocalist and I love her," Ariana added. "She's wonderful, a great person and so is Nicki, they're both really great human beings. Talented and awesome and at the same time really down to earth and very deserving of all their success."
You may also like...