Ariana Grande's Matched Adele's Record Of Having THREE Songs In The US Top 10 At Once!
22 August 2014, 11:29 | Updated: 22 August 2014, 11:34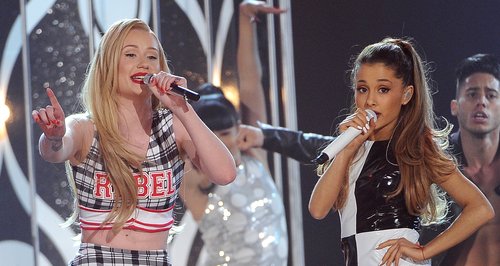 Ariana Grande is fast becoming a force to be reckoned with! She's even managed to match Adele's record in the American music charts…
It's a pretty big deal to be able to take on Adele in the charts, but Ariana Grande has managed to match her record by having three tracks in the top ten of the US charts at the same time!
The 'Problem' singer has got three of the top ten slots on the Billboard Hot 100 this week with 'Break Free' at number four, 'Problem' at seven and her collaboration with Jessie J and Nicki Minaj, 'Bang Bang' at number 10.
And dominating the top ten is no mean feat – the last lady to achieve the same accolade was our homegrown hero Adele, who managed it in 2012 with 'Set Fire To The Rain' at number two, 'Rolling In The Deep' at number five and 'Someone Like You' at number seven.
But Ariana is sharing her chart rule with Iggy Azalea, who managed to also get three singles on the top ten with her feature on Ariana's 'Problem' at number seven, 'Fancy' at number five and her collaboration with Rita Ora, 'Black Widow' at number eight.
The girls have joined the elite club whose previous female members only included Adele and Ashanti, and it's the first time in the 56 year history of the Hot 100 that two females have had three singles in the top ten at the same time – go on the girls!