12 Times Ariana Grande Upstaged EVERYONE With Her Killer Dance Moves
12 May 2015, 12:10 | Updated: 12 May 2015, 15:30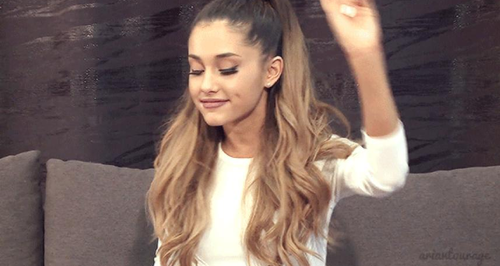 Ari's got moves! Moves we need to steal. Watch and learn how to perfect the 'One Last Time' singer's signature steps.
From hip rolls to sassy finger clicks, turns out #CapitalSTB star Ariana Grande is a pretty fab dancer and if this GIF is anything to go by she's also pretty keen to teach the world her moves.
Check out these twelve adaptable moves you're able to break out pretty much ANYWHERE. Thanks Ari!
1. The Booty Roll
Ari makes like J-Lo and Iggy as she perfects that booty roll. Bonus points for this flippy skirt that really highlights those twists and turns.
2. The Hip Roll
Bring your whole body into the booty roll you've already perfected and you're winning at this move.
3. The Arms Up, Snap
Turn up Ariana, Jessie and Nicki's 'Bang Bang' and throw your arms in the air like you just don't care, and you're half way there.
4. The Dramatic Hair Flick
Our personal favourite. Ari MASTERS this sassy move with her top knot.
5. The Air Thrust
Push it don't drop it. Reach out and push that air away, not only is this a great yoga move but it also looks super dramatic.
6. The Cross Body, Sassy Fingers
Criss cross your arms, wag those index fingers and say no to the haters.
7. The Invisible Hug
Imagine you're hugging Justin Bieber - hold on and don't let go as you sway to the beat. Bonus points if you do this whilst hugging the Biebs.
8. The Ballerina
Put those age seven ballet classes to good use and strut yourself then TURN... Without getting dizzy.
9. The Sassy Finger Snap
Only to be used at the most epic of moments. The sassy finger snap will make you the COOLEST person on the dance floor. Just make sure not to over do it.
10. The 'Drop It Like It's Hot' Drop
A club classic. Make like Ari and drop it like it's hot when the beat kicks in.
11. The 'Club Be Jumping' Bounce
Get the club on their feet jumping, and make sure to add it a little hip roll whilst you're at it for extra attitude.
12. The Over-The-Shoulder Hair Flick
Girl done! End your routine with a glance over your shoulder and a hair flick - and you're basically Ariana Grande.
YOU GOT IT GIRL!
You may also like...