Ariana Grande Apologises For Misleading Fans With "New Lyrics" About Nicki Minaj
14 May 2018, 06:43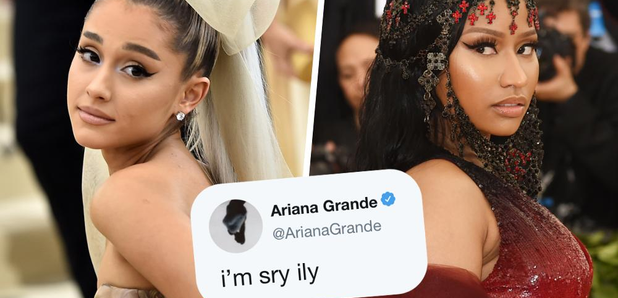 "sometimes i am going to tweet things that aren't lyrics"
Every time Ariana Grande posts to Twitter, we kinda lose it. We drop whatever we're doing and try to read into it... Mainly because she'll have probably written it upside down.
Recently, Ari wrote "i love my big sis Nicki Minaj so f***in much", followed by "there's jus nobody better". After 196k likes on the two posts, fans started to expect these were upcoming lyrics.
lyrics? i got you sis

— jeff (@demiswetener) May 12, 2018
> Ariana Grande Speaks Out For The First Time After Mac Miller Split
However, they weren't.
Pic: Getty
Ariana quickly took to Twitter to explain that these weren't lyrics, and she was just sharing some love for the 'Pound the Alarm' singer, which quickly took to them two sharing anecdotes about running out together in their slippers.
remember when u called me at 5am and said get ur ass up n come to the stu btch and i propelled myself out the door at the speed of light wearing slippers that later got soaked in rain and we had the best morning of my life i do https://t.co/031YJqU1o4

— Ariana Grande (@ArianaGrande) May 12, 2018
Finally, the 'Focus' sensation shared a message to her 57.2m followers, saying "warning : sometimes i am going to tweet things that aren't lyrics or tea is that ok i'm sry ily"
> Grab Our App, And You Can Catch Everything Ariana Grande-y Right Now!
She did, however, end her day by saying she loves us all, so even though these weren't actual lyrics, we're pleased.
i love u my crazy babies. we're crazy together so it's fine.

— Ariana Grande (@ArianaGrande) May 12, 2018