12 Facts You Always Wanted To Know About Ariana Grande
31 August 2018, 12:24 | Updated: 31 August 2018, 14:14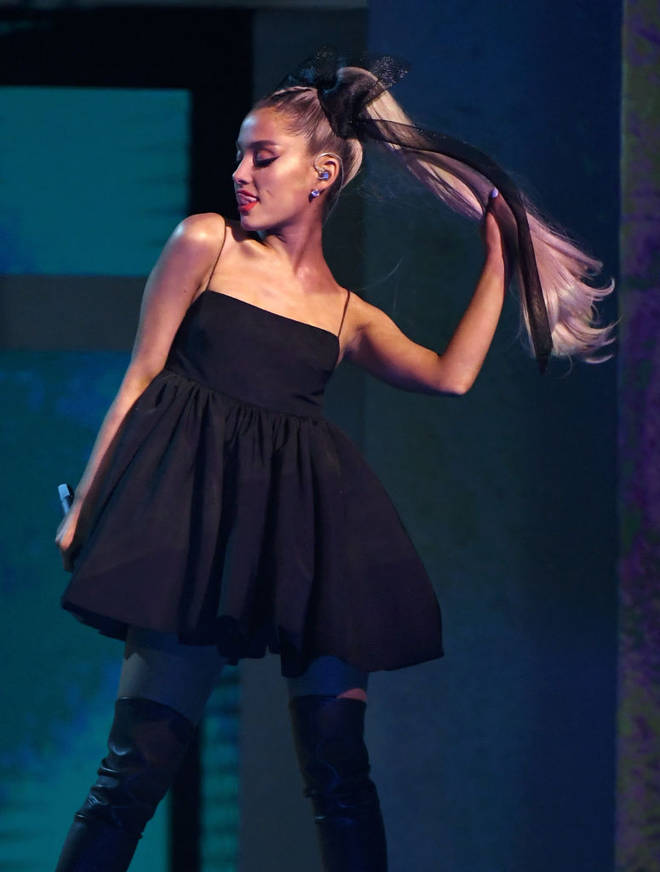 Find out if you really know Ariana with these facts about the God is a Woman singer.
With Capital putting Ariana stans to the test to win tickets to an intimate gig with the star at London's Koko.
If you think you're a true Arianator, you'll want to make sure you know these 12 facts about Grande.
Find out all about her tattoos, where she was born, her star sign, and even her alleged beef with Jennette McCurdy.
What is Ariana Grande's real name?

Ariana wowed at the Met Gala this year, but is that even her real name?

Picture: Getty

Ariana Grande is sort of the star's real name. Her birth certificate reads Ariana Grande-Butera, which encompasses both her mum and dad's surnames. Her first name was chosen by her parents, inspired by Princess Oriana in Felix the Cat: The Movie.

Who is Ariana Grande's brother?

Frankie Grande is Ariana's protective older brother.

Picture: Getty

Frankie Grande is Ariana's older half-brother. He's famous in his own right, and has starred in Broadway plays as well as being a judge on America's Best Dance Crew and appearing on Celebrity Big Brother here in the UK.

When was Ariana Grande born?

How old is pop princess Ariana Grande?

Picture: Getty

Ariana's birthday is 26 June 1993, making her 25 years old.

It's no mean feat to be so successful at such a young age.

What star sign is Ariana Grande?

Ariana's is a sensitive water sign.

Picture: Getty

Ariana's zodiac sign is cancer. They're known for being emotional and intuitive.

Cancers also love water, which may explain why she's chilling in a big colourful bath in the God is a Woman video.

Is Ariana Grande a vegan?

No meat for vegan Ariana.

Picture: Getty

Although the Sweetener songstress didn't eat much meat to begin with, she revealed in 2013 that she had gone fully vegan.

She told The Mirror, 'I love animals more than I love most people, not kidding. But I am a firm believer in eating a full plant-based, whole food diet that can expand your life length and make you an all-around happier person.'

Where is Ariana Grande from?

Ariana was born in Florida, but is of Italian descent.

Picture: Getty

Boca Raton in Florida is where Ariana was born. Perhaps it's due to her Mediterranean name, but many people ask the star if she's Spanish.

She confirmed on Twitter where her family are actually from, though, answering a fan, 'No, I'm actually Italian! Part Abruzzo and part Sicilian.'

How much is Ariana Grande's net worth?

No wonder Ariana has a high net worth, she's been working since childhood.

Picture: Getty

According to Celebrity Net Worth, Grande is worth a whopping $45 million (£33 million).

Given that she's had a number of successful albums, tours, and acting roles, this seems about right.

How many tattoos does Ariana Grande have?

Peep that little heart tattoo, which is one of Ariana's most recent.

Picture: Instagram/Ariana Grande

As far as we know, Ariana has 26 tattoos.

She got her first when she was 18 - a heart on her toe - and her most recent is of a character, Chihiro, from the animated film Spirited Away.

Grande has a matching 'reborn' tattoo with fiance Pete Davidson, as well as his late father's firefighter badge number (he died at 9/11).

What was Ariana Grande's first acting and singing role?

Ariana Grande was a Nickelodeon star on Sam & Cat.

Picture: Getty

Many people remember Ariana as Cat Valentine in Victorious and Sam & Cat.

This was her first major role, but she had performed in a number of theatre productions in her native Florida, even singing the national anthem at big sporting events.

Who is Ariana Grande's best friend?

Besties Ariana Grande and Alexa Luria.

Picture: Twitter/Alexa Luria

Ariana and bestie Alexa Luria have been friends since they were ten years old.

Although they live far apart, the pair still visit each other often, and Alexa has been in a number of Ariana's music videos over the years. including Break Free.

Which religion does Ariana Grande belong to?

Ariana felt hurt by the Catholic Church and turned to Kabbalah.

Picture: Getty

Ariana was raised Roman Catholic, but strayed away from the faith after comments by Pope Benedict on homosexuality (particularly since her brother Frankie is gay) and working women.

She now follows Kabbalah's teachings alongside Frankie, and says 'the basis lies in the idea that if you're kind to others, good things will happen to you.'

When did Ariana Grande get engaged?

Pete and Ariana were engaged after just a month.

Picture: Getty

In a whirlwind romance, Ariana and comedian Pete Davidson announced their engagement in June this year, one month after getting together.

How tall is Ariana Grande?

There isn't too much height difference between Ariana and Nicki Minaj.

Picture: Getty

Tiny Ariana is only 5ft tall, two inches smaller than regular collaborator Nicki Minaj.

Now we know why she's always pictured in skyscraper heeled boots.

Does Ariana Grande have beef with Jennette McCurdy?

The pair starred in Sam & Cat, but there were reports of fighting between Ari and Jennette McCurdy .

Picture: Getty

When Sam & Cat ended after just one season, there were rumours that a feud between Ariana and her co-star Jennette had caused the cancellation.

Some said it was due to a pay dispute and that Ariana was being paid more than McCurdy. However, Ariana strongly denied this, and recent reports say that the two are still in touch with no bad blood.