Adele's 2016 World Tour Dates: Plus The 'Hello' Star's Added Eight NEW UK Dates!
8 December 2015, 11:10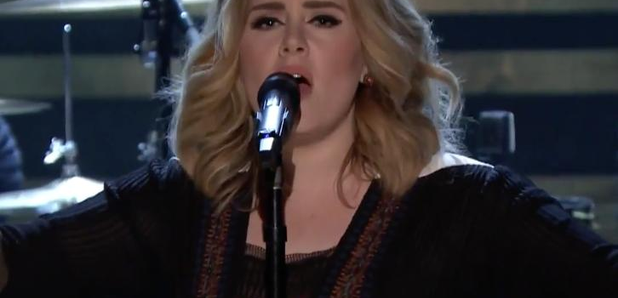 YES – the lady herself is finally taking her new music on tour, and you can find out how to get tickets right here.
It's finally happened – after waiting FOREVER for Adele's brilliant new album, the lady is going on tour in Europe in 2016, and she's added a STRING of new UK dates as well.
Adele took to Twitter to share the news with her fans last month with an exclusive video - and it just shows exactly why we love Adele (and THAT laugh) as much as we do.
Go to https://t.co/l21mEjQSCp for details pic.twitter.com/3RAuxqGpMg

— Adele (@Adele) November 26, 2015
Adele has revealed 44 dates around Europe so far, kicking off in Belfast on 29th February before finishing on 13th June in Belgium.
The full tour dates so far are:
29th February - SSE Arena, Belfast, UK
1st March - SSE Arena, Belfast, UK
4th March - 3 Arena, Dublin, Ireland
5th March - 3 Arena, Dublin, Ireland
7th March - Manchester Arena, Manchester, UK
8th March - Manchester Arena, Manchester, UK
10th March - Manchester Arena, Manchester, UK
11th March - Manchester Arena, Manchester, UK
15th March - The O2 Arena, London, UK
16th March - The O2 Arena, London, UK
18th March - The O2 Arena, London, UK
19th March - The O2 Arena, London, UK
21st March - The O2 Arena, London, UK
22nd March - The O2 Arena, London, UK
25th March - The SSE Hydro, Glasgow, UK
26th March - The SSE Hydro, Glasgow, UK
29th March - Genting Arena, Birmingham, UK
30th March - Genting Arena, Bimingham, UK
1st April - Genting Arena, Birmingham, UK
2nd April - Genting Arena, Birmingham, UK
4th April - The O2 Arena, London, UK
5th April - The O2 Arena, London, UK
29th April - Stockholm, Sweden
1st May - Oslo, Norway
3rd May - Copenhagen, Denmark
4th May - Herning, Denmark
7th May - Berlin, Germany
8th May - Berlin, Germany
10th May - Hamburg, Germany
11th May - Hamburg, Germany
14th May - Cologne, Germany
15th May - Cologne, Germany
17th May - Zurich, Switzerland
21st May - Lisbon, Portugal
22nd May - Lisbon Portugal
24th May - Barcelona, Spain
28th May - Verona, Italy
29th May - Verona, Italy
1st June - Amsterdam, The Netherlands
3rd June -Amsterdam, The Netherlands
9th June - Paris, France
10th June - Paris, France
12th June - Antwerp, Belgium
13th June - Antwerp, Belgium