Surgeon Who Saved Adele's Vocal Chords Says He Had Never Heard Of The Singer
18 March 2013, 16:50
The 'Someone Like You' star underwent microsurgery back in 2011 following a vocal-cord haemorrhage.
The surgeon who performed microsurgery on Adele's vocal chords to save the singer's voice has revealed that he had never heard of the star before she came to him for help.
Steven Zeitels worked with the singer back in 2011 and told WalesOnline that it was only a week before they met that he first heard her name.
"I think she is an amazing singer but it is not like I was familiar with her material," he confessed. "I'm a time warp for music."
He was first informed of the 'Rolling In The Deep' singer's problem from a patient and then by "coincidence" – the call came from the '21' star.
"Another performer had heard what had happened to her and said, 'I hope that does not happen to me.' That was another well known performer," he said.
He continued: "I don't think she needed a fan. "I think she needed a doctor. I appreciate the music but when someone comes into my office I'm their surgeon. I may not know their material but they do not want a fan."
Adele also name checked Steven when she picked up one of her awards at the Grammys 2012 – the place she made her live comeback following the surgery."
"When she went to the Grammys and won six awards I was there with my wife and she was very kind, she thanked me right after her first award," he said. "I did not know that was going to happen."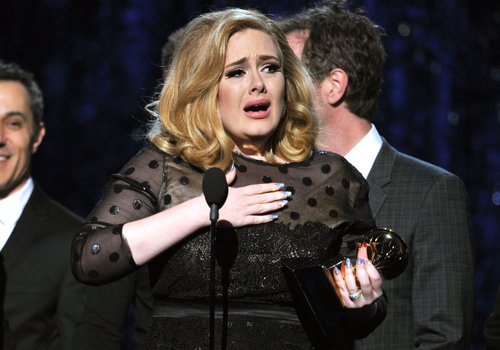 Speaking about her actual performance at the event, he added: "It was very gratifying.
"It was like watching a daughter because I was hoping she would do well and she did beautifully. I was getting calls and text messages within moments. My cell phone was going crazy. People were watching.
"I was being contacted by people I had not seen since elementary school. People identified with the moment. It was an unusual set of circumstances. She was very kind to have done it."
Adele has since only made a handful of performances – including at last month's Oscars, where she also picked up an Academy Award for Best Original Song with her James Bond theme 'Skyfall'.
The 'Rumour Has It' star also gave birth in late 2012 to her and boyfriend Simon Konecki's first child and is currently working on her third studio album.